(Note: The following is an excerpt from "Election 2012: The Battle Begins" by Tom Bevan and Carl M. Cannon. Click here to purchase the first eBook in the series.)
On January 24, 2009, in Binghamton, New York, four days after President Obama's inauguration, two-dozen college-age protesters showed up carrying placards saying BORN FREE AND TAXED TO DEATH.
They had assembled to protest Gov. David Paterson's proposed "obesity tax" on soft drinks. The protesters were led by Trevor Leach, who had just been named as the first New York state chairman of a group called Young Americans for Liberty, an offshoot of the 2008 Ron Paul for President campaign. Leach, then twenty-four years old, sported a feathered headdress intended to evoke the original Boston Tea Party that helped launch the American Revolution.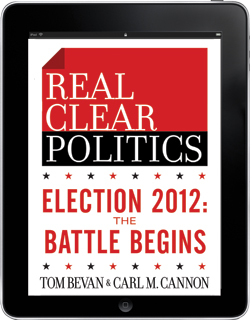 In the first decade of the twenty-first century, the Boston Tea Party made a comeback, sometimes as a metaphor, sometimes as farce. The college students in Binghamton in January 2009 were engaged in a purely symbolic protest: These modern-day tax protesters poured a few gallons of generic-brand soda off the Washington Street Bridge into the icy waters of the Susquehanna River, hoping to attract a bit of media attention.
"We really want to see a sense of fiscal responsibility from the government and have them get their hands out of our pockets," Leach, a graduate of the Maxwell School of Citizenship and Public Affairs at Syracuse University, told a local television station. "The government has gotten out of control in the last few decades, and we're taking notice of that."
They weren't the only ones feeling this way.
Across the country in Seattle, Washington, a twenty-eight-year-old political novice was building up an obsessive resentment against government bailouts and deficit spending. Her name was Keli Carender, and she fits no one's stereotype of an angry or intolerant right-winger. Carender wears a stud in her nose, does comedy improv in Seattle's University District on weekends, and was working for a local non-profit teaching math in an adult education program that catered to down-and-outers, many of them ex-convicts or drug addicts.
But as the Bush administration limped to a close, Carender had become politicized by the government's bailout of the banks. When a friend sent her a video clip of George W. Bush saying he had to abandon the principles of the free market in order to save it, she told friends she felt "violated" by a president she had voted for. "Oh, my God!" she complained. "Maybe he really is as dumb as liberals say he is."
As it became clear that the liberals who had gained control of all the levers of government in 2008 had spending plans that dwarfed anything Bush had in mind, Carender began reading everything she could get her hands on regarding the Democrats' stimulus package. One day in January 2009, her fiancé, a young Obama voter named Conor McNassar, turned to her and said patiently, "You have to start blogging or something."
The resulting effort, a website called Redistributing Knowledge, went up on January 25, 2009 -- one day after the publicity stunt in Binghamton -- with Carender writing under the pen name "Liberty Belle." Carender had also written and telephoned repeatedly to the offices of her congressional representatives, Democratic senators Maria Cantwell and Patty Murray, and Rep. Jim McDermott, one of the most liberal members of the House. She didn't expect much, but she did assume she'd be able leave a voice-mail message, which she could not-their switchboards were swamped-and when she got a form letter from one of her senators thanking her "for your support," she became determined to do something more.
"I'm going to hold a rally," she told McNassar.
It was held on February 16, 2009, Presidents' Day, a date not chosen with Barack Obama in mind but because it was a holiday and Carender had it off. She had settled on a catchy name for her protest rally: "Porkulus" - a play on both pork-barrel spending and stimulus that apparently originated with Rush Limbaugh.
It wasn't as catchy as "Boston Tea Party," but it was more original and a tickled Malkin paid for pulled-pork sandwiches for the crowd, which numbered some 120. But tea, not pork, was the fad in 2009, and even at Carender's event a middle-aged woman showed up in blue jeans and a red coat with two signs, one denouncing SOCIALISM, the other one stating simply, TAXATION WITHOUT REPRESENTATION, and featuring several pasted-on tea bags.
The next day, Michelle Malkin showed up in Denver, Colorado, at a hastily organized rally on the steps of the state capitol. Chanting, "No more pork!" a small band of demonstrators listened to speeches from Malkin, former Republican congressman Tom Tancredo and Jim Pfaff, who headed the Colorado branch of Americans for Prosperity, an anti-tax group funded by the wealthy and conservative Koch brothers. Pfaff singled out Obama, Harry Reid, and Nancy Pelosi as "Bernie Madoff Democrats" and called the stimulus bill a "Ponzi scheme" -- a comparison Rick Perry would later apply to Social Security. Malkin deemed the bill that Obama would sign later that day in the same city "an unprecedented act of generational theft."