Rubio's Unique Advantage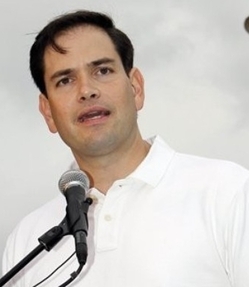 Marco Rubio is in Washington today, just five days after Florida Gov. Charlie Crist opted out of the Republican primary against Rubio to run instead as an independent. Rubio now has a somewhat unique advantage in a year when conservatives and the Republican establishment in Washington seem to be picking different candidates in GOP primaries -- he has the firm backing of both.
"I'm excited to have help from anyone who wants to help elect someone to the U.S. Senate who will stand up for free enterprise, limited government and a strong national defense," Rubio told reporters shortly before walking into a meeting on Capitol Hill.
Rubio said he spoke with Sen. John Cornyn, chairman of the National Republican Senatorial Committee, over the weekend and they "agreed to talk at some point and kind of figure out how we can work together."
Almost as quickly as they had endorsed Crist last year after he formally announced his candidacy, Cornyn and other Republican Senate leaders withdrew their endorsement Thursday following his exit from the primary. In doing so, they called Rubio an "emerging star" and promised him their "resources and support."
"When I first got in this race, virtually the entire establishment endorsed Governor Crist within 13 minutes of his announcement," said Rubio. "I can't tell you it was the most encouraging thing in my life, but it helped remind me why I was running. I wasn't running to win the D.C. primary, I wasn't running because I wanted to be part of the club. I was running because I believed that no one else in this race could say the things that I thought needed to be said."
With the Republican nomination locked up nearly four months before a primary would have been held, Rubio will have the advantage of the party's monetary support throughout the summer, if he needs it. The campaign had a remarkable first quarter of fundraising and now boasts picking up 2,400 new donors over the last two weeks through its "Flip the Switch" campaign, which is tied to Crist's party switch.
However, a three-way race with two candidates pulling Republican supporters will be a difficult hurdle to overcome. A new automated poll out this afternoon found Crist leading the two party-backed candidates with 38 percent of the vote. Rubio finished a close second with 34 percent, with Democratic Rep. Kendrick Meek a distant third with 17 percent.
Crist and Rubio are virtually tied in the RCP Average, and RCP currently ranks the race as a Toss Up.