Two More Incumbents On Chopping Block
Democratic Senators Blanche Lincoln of Arkansas and Arlen Specter of Pennsylvania are entering the last few days before their May 18 primaries wondering whether they will be the next two incumbents ousted before the general election.
West Virginia Democratic Rep. Alan Mollohan and Utah Republican Sen. Bob Bennett were both rejected by their own party in the last several days, and their results have put incumbents on both sides of the aisle on notice.
Pennsylvania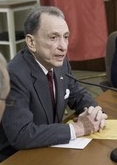 Both Lincoln and Specter are on shaky ground, but Specter's prospects look somewhat more perilous. In a slip of the tongue that's symbolic of his issues in the primary, the longtime GOP senator called the Allegheny Democratic Committee that endorsed him "Allegheny County Republicans," and repeated the stumble again before concluding his Tuesday night speech to the group.
His primary opponent, Rep. Joe Sestak, continues to remind Democratic voters -- whom polls once showed siding with Specter by large margins -- that this is the same Specter that George W. Bush and conservative former Sen. Rick Santorum endorsed six years ago in his competitive Republican primary.
Since Sestak went on the air with TV ads in recent weeks, his standing among primary voters has vastly improved and he finds himself dead even with Specter in the polls. A Franklin and Marshall College Poll out Wednesday found that support for Specter is soft, so a gaffe like the one on Tuesday could help Sestak persuade voters he's the only true Democrat.