Neuhardt's Wishful Thinking
Democrat Sharen Neuhardt is running for the open seat in Ohio's Seventh District, but subconsciously, she may wish she were somewhere else. Notice anything funny about results of a Google search of Neuhardt's name?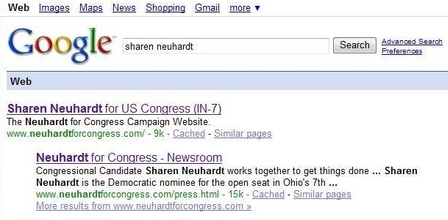 That's right, Neuhardt, running in the Buckeye State, may prefer to be running in more Democratic-friendly territory in the neighboring Hoosier State. Although the Indianapolis-based Seventh District in Indiana isn't necessarily a safe Democratic district, Rep. Andre Carson, who won the March special election to fill his late grandmother's seat, is in a district Barack Obama is likely to win in November, unlike the south suburban Columbus-based Ohio Seventh.
"That is just a silly mistake," Neuhardt campaign manager Jim Alexee said, laughing when asked about the typo. "That's never happened. It must be a problem with the code."
Republican Rep. David Hobson, who has represented the district Neuhardt is actually running in since 1990, never won with less than 61% of the vote, and President Bush won with 57% in 2004. This year, Republican Steve Austria is vying to keep the seat in GOP hands, and is seen as one of Republicans' top recruits. And despite the good environment for national Democrats, Austria would surely be a shoe-in if Neuhardt took off for Indianapolis.
-- Kyle Trygstad