Kicking Off "Grudge Match," Ehrlich Promises Victory
Bob Ehrlich made his comeback bid official today with a feisty kick-off speech in suburban Washington, promising victory in what promises to be a hard-fought rematch with Gov. Martin O'Malley (D).
Speaking before a couple hundred supporters in downtown Rockville, Ehrlich rattled off a list of questions he says reporters have asked him in recent weeks as he moved to enter the race, including whether the 2010 race would be a "grudge match."
"The last grudge match I had, folks, was in middle school. And I won," Ehrlich said. "We're used to winning."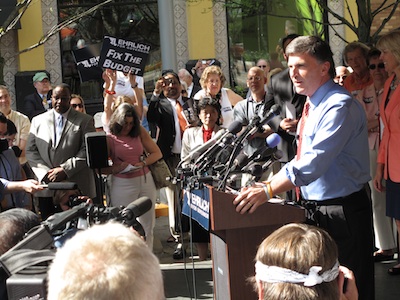 In his 10-minute kickoff speech, the former governor criticized the direction state government has taken since he left office after his 2006 defeat. He asked rhetorically what have we seen in Annapolis since then, prompting a supporter to shout: "Tax increases!" Ehrlich laughed, promising the man was not a plant. He then spoke of "unending excuses and limitless bailouts from the federal government," a reference to the stimulus plan which helped Maryland and other states close budget deficits.
Continue reading "Kicking Off "Grudge Match," Ehrlich Promises Victory" »