Obama's Buck-Stops-Here Presser
In an effort to quell the growing stream of doubts about his administration's response to the Gulf oil spill, President Obama repeatedly said he takes full responsibility for the government response while seeking to dispel the notion that his team did not act aggressively enough.
"Those who think that we were either slow on our response or lacked urgency don't know the facts. This has been our highest priority since this crisis occurred," Obama said in a rare extended Q-and-A session with White House reporters, which comes on the eve of a holiday weekend and his second trip to the Gulf since the late-April incident.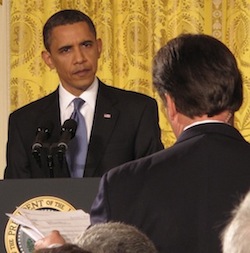 The White House called for today's event in part to allow Obama to re-assert leadership in the face of doubts about whether the federal government or BP was calling the shots.
"The American people should know that from the moment this disaster began, the federal government has been in charge of the response effort," he said. "Make no mistake: BP is operating at our direction."
He later said he wanted the American people "to understand is that not a day goes by where the federal government is not constantly thinking about" resolving the crisis and minimizing its impact on Gulf residents. And he was Truman-esque in taking a "buck-stops-here" tone, particularly in his closing remarks.
"In case you're wondering who's responsible, I take responsibility," he said. "It is my job to make sure that everything is done to shut this down."
He bristled at criticism that this crisis amounted to his "Katrina," and questions about whether he could done more both in responding to offers of assistance from foreign governments and in meeting the demands of local and state officials on the ground.
"When the problem is solved and people look back and do an assessment of all the various decisions that were made, I think people can make a historical judgment. And I'm confident that people are going to look back and say that this administration was on top of what was an unprecedented crisis."
Moving forward, Obama proposed four policy shifts as a result of the BP spill. First, suspending exploration of two new locations off the coast of Alaska. Second, canceling a pending lease sale in the Gulf and a proposed lease off the Virginia Coast. Third, extending the moratorium on new permits to drill deepwater wells for six months. And finally, suspending current drilling efforts at 33 deepwater wells in the Gulf of Mexico.
Obama, in something of a jab at political opponents like Sarah Palin, said that while he had been willing to expand offshore drilling, it had to be done safely and as part of a larger energy plan that included aggressive development of renewable sources. Drilling of the kind here "is more expensive, and it is going to be inherently more risky."
"And so that's part of the reason you never heard me say, 'Drill, baby, drill,'" he said. "We can't drill our way out of the problem. It may be part of the mix as a bridge to a transition to new technologies and new energy sources, but we should be pretty modest in understanding that the easily accessible oil has already been sucked up out of the ground."
Though not officially billed as a press conference beforehand, it was Obama's longest session with White House reporters that on domestic affairs since he held a prime-time affair last July. Still, of the 10 reporters called on, all but three questions were on the oil spill.
One of the most pressing political questions of this White House did not come up until the very end. Fox News' Major Garrett asked Obama what his administration may or may not have offered Rep. Joe Sestak (D) last year in an effort to get him out of the Pennsylvania Senate race. Obama promised a full statement on the issue would come "shortly," a metric that aides later did little to clarify.
"I can assure the public that nothing improper took place," he said when pressed on the issue.