In Battleground States, Obama Job Rating Suffers
After reaching the lowest levels of the administration thus far a month ago, there's quietly been something of a mini-resurgence in President Obama's job ratings. While approval is still below 50 percent, disapproval has fallen to a nearly four-month low in the RCP average, and net approval near its best mark in two months.
The White House is beginning to highlight these statistics, pointing out to a friendly source Thursday that a "a trend seems to be emerging" with every new national poll. And if the trend continues, it is surely an auspicious factor for Democrats in the midst of an election year.
But a look at Obama's numbers on a state-by-state basis reflects the party's precarious state in the midst of a critical string of primaries and special elections. RCP compiled state-specific public polling over the past three months, and found Obama's net job approval rating is in negative territory in 28 of the 44 states where figures are available, including nearly all the battleground states critical to his and the Democrats' future success.
In Florida, the president's net approval rating is -1.7; in Colorado, it's -6.5; North Carolina, -2.7; Ohio, -7.8; Nevada, -5.0; and Pennsylvania, it's -3.0. These six states all feature critical Senate contests this year, with the Keystone State also home to a potential bellwether special Congressional race next Tuesday. And five of the six were red states that flipped into the Democratic column in the 2008 presidential election.
Obama's position is far worse in several other 2008 battlegrounds, as well as red states where Democrats are struggling to hold seats this fall. In Arkansas, where Sen. Blanche Lincoln trails all potential Republican opponents, Obama's net approval rating is -28. In Indiana, a state Obama won, his rating is -13. And Missouri, which he narrowly lost and hosts an open Senate race Democrats had thought was a prime pickup opportunity, his rating is -11.5.
The flip side, of course, is that other Democrats facing competitive races in blue states will be safer given Obama's standing there. The president scores best in states like California (+16.8), Connecticut (+11.5), Illinois (+15.0), and New York (+15.7), where he appeared Thursday at a party fundraiser.
Publicly, of course, administration officials and the president himself scoff at a polling-obsessed Beltway culture.
"I've got pollsters," Obama said just last night at a fundraiser in New York. "I know when what we're about to do is politically unpopular. But what I also knew was that if we wanted to break the back of our recession and get our economy moving again, then the steps we took were absolutely necessary."
But it is exactly this kind of state-by-state breakdown that will be crucial as the DNC and the White House map his fall itinerary. Obama has largely avoided public campaign appearances yet for Democratic candidates up in November.
"He actually has been doing some campaigning," deputy press secretary Bill Burton told reporters Thursday. "As we get closer to the midterms, you'll see that increase. But as you can imagine, there's more than a few things on his plate right now."
Those events thus far include only fundraisers for incumbents like Barbara Boxer and Michael Bennet. It is Vice President Biden who has done more of the heavy lifting on the political front; he'll help Iowa Gov. Chet Culver (D) formally kick off his campaign next week.
National Approval
State By State Approval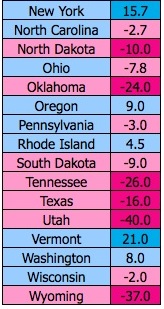 *Recent polling on Obama job approval not available in Maine, Mississippi, Montana, South Carolina, Virginia and West Virginia.