Coats Sees Kagan, Miers Link
Dan Coats is all too familiar with the rigors of the confirmation process for Supreme Court choices, having served as the so-called "sherpa" for President George W. Bush's second attempt to fill a seat. Coats ultimately helped navigate Samuel Alito to the bench, after seeing the previous choice, Harriet Miers, withdrawn.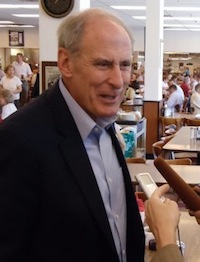 Elena Kagan heads to Capitol Hill today for her first "courtesy calls" with the senators who ultimately must will decide her fate. Coats, now running for to reclaim his former seat, said Tuesday she faces a similar challenge to the one Miers faced five years ago.
"She has very little record, and so unfortunately it's more of what she says, not more of what she has done," Coats told RCP in an interview Tuesday. "The irony is that Harriet Miers, the original appointee, was soundly criticized for not having a record with which to judge. ... It's ironic that the same Democrats who were trashing Harriet Miers for not having judicial experience are saying it doesn't matter."
It was criticism from both the left and right that doomed the Miers nomination, made when Republicans still had a majority in the Senate. Coats still argued there were similarities, saying in each nomination there was a woman "of substantial personal experience and not judicial experience." He declined to indicate how he might vote on Kagan if he were in the Senate today, saying he won't have access to the same information others will have. But he signaled that his philosophy on voting would be different now than it was when he did serve, voting in 1994 to confirm Ruth Bader Ginsburg.
"This whole idea of, 'Well the president has the prerogative of choosing who he wants,' ... I think those days are over," Coats said, pointing to an attempt to filibuster the Alito nomination. "I saw them trash Alito. If that's the game they want to play, that's the game we'll have to play."
In the interview, Coats talked extensively about his effort to return to the Senate after more than a decade in the private sector, even as he acknowledged the political climate has changed dramatically. While soft-spoken, he nonetheless spoke out strongly against what he called an "arrogant" administration under President Obama. He called his Democratic opponent, Rep. Brad Ellsworth, an "Obama enabler," and promised to be a reliable vote against the Democratic agenda.
"You can count on it. You can take that to the bank," he said. "That's what the people of Indiana want. That's what I want. None of us ever imagined an administration a presidency who, in the spite of one of the worst economic downturns in this country's history, ... would be advancing a liberal agenda of massive new spending, massive new expansion of government and not focusing on getting the economy back on track and getting people back to work. Just inconceivable. And so if I'm elected, I'll be a major voice of opposition to what this administration is trying to do."
In the same week that Coats won a crowded primary for the GOP nomination, his former colleague Bob Bennett saw his re-election effort derailed at the Utah Republican convention. Though Democrats hope to paint him as part of the establishment in an anti-establishment year, Coats argued that Hoosier voters would see Ellsworth as the Washington candidate.
"I'm the challenger applying for the job and he's the incumbent trying to hold on to the job," Coats said. "Right now, people are upset with what's happening in Washington now with these incumbents, a lot more than someone who served 12 years ago."