Kicking Off "Grudge Match," Ehrlich Promises Victory
Bob Ehrlich made his comeback bid official today with a feisty kick-off speech in suburban Washington, promising victory in what promises to be a hard-fought rematch with Gov. Martin O'Malley (D).
Speaking before a couple hundred supporters in downtown Rockville, Ehrlich rattled off a list of questions he says reporters have asked him in recent weeks as he moved to enter the race, including whether the 2010 race would be a "grudge match."
"The last grudge match I had, folks, was in middle school. And I won," Ehrlich said. "We're used to winning."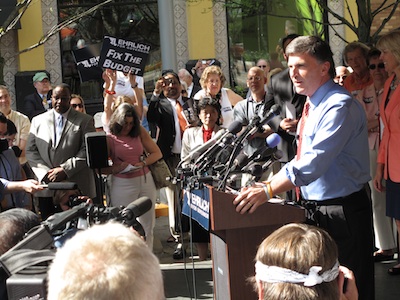 In his 10-minute kickoff speech, the former governor criticized the direction state government has taken since he left office after his 2006 defeat. He asked rhetorically what have we seen in Annapolis since then, prompting a supporter to shout: "Tax increases!" Ehrlich laughed, promising the man was not a plant. He then spoke of "unending excuses and limitless bailouts from the federal government," a reference to the stimulus plan which helped Maryland and other states close budget deficits.
"We know they raised taxes, and we tried to cut 'em. We know they spend beyond our means, and we spend within our budget. They kill jobs. We help create them. They talk, and we lead," Ehrlich said.
Ehrlich promised a campaign about the future but offered only a brief outline of his plans, saying he's "begin to roll back the 20 percent increase" in the state sales tax, "fix the budget with no gimmicks," and double the number of charter schools.
Ehrlich did not take questions from reporters, many interested in asking about his former lieutenant governor, Michael Steele, now embroiled in controversy over his fiscal management of the RNC. The Democratic National Committee is eagerly trying to tie Steele to Ehrlich, who tapped him as his running mate in his successful 2002 run.
The O'Malley campaign, however, says it's more eager in a debate about Maryland issues, and said Ehrlich the former governor is only offering the same "retread" ideas state voters rejected. Campaign manager Tom Russell also fought back on Ehrlich's attack about O'Malley's handling of the state budget, saying spending increased under the Republican's administration 33 percent in one term -- more than it did in two terms under his predecessor, Paris Glendening.
"And despite all of that spending, he still didn't make any progress in the state," Russell said.
A debate over debates has already ensued, with O'Malley saying he wanted to participate in a moderated forum with his rival during his regularly-scheduled talk show on WBAL radio. Ehrlich rejected that proposal, instead offering a less restricted "conversation" on his show, which O'Malley then rejected.
After his kickoff speech, Ehrlich headed to a nearby ice cream shop, donning an apron and scooping out a special offering in his honor: mint and coffee ice cream. He dodged several questions from reporters but did offer them some of the tasty frozen treats.
Ehrlich was set to hold another rally in the Baltimore area this afternoon.