Latest Health Care Pep Talk Takes Feisty Tone
The lab coats were back. The East Room setting familiar. Even some of the rhetoric was the same. But President Obama's tone had a bit more edge to it today as he made yet another push to pass his health care reform plan -- one the White House hopes is among his last.
Obama tried simplifying his plan, saying it would make three changes to the health care system: ending "the worst practices" of health insurance companies; opening an insurance exchange to give Americans more options; and lowering costs generally. It's a plan, he says, that "has been debated and changed and I believe improved over the last year," and incorporates many Republican ideas.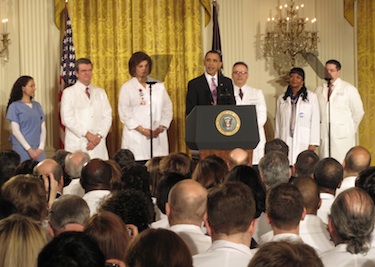 "I, therefore, ask leaders in both houses of Congress to finish their work and schedule a vote in the next few weeks," he demanded. "From now until then, I will do everything in my power to make the case for reform. And I urge every American who wants this reform to make their voice heard as well."
Obama himself will hit the road with events in the purple states of Missouri and Pennsylvania. And he activated his former campaign organization to join "the final march for health reform."
The political stakes are high, but Obama said he's not motivated by politics. In fact, he chastised the media for "a fascination, bordering on obsession" with the political ramifications of passing the bill.
"I do not know how this plays politically, but I know it's right," he said.