A Bill Signing Becomes A Pep Rally
At times today, the East Room of the White House had the air of a high school gymnasium, as President Obama ended a more than year-long fight to pass health care reform by signing the historic bill into law.
The audience was primarily full of the Democratic lawmakers who have struggled with the sausage-making all year, and who may yet feel the wrath of voters. As the president and vice president made the walk from the Blue Room to the East Room, a campaign chant of, "Fired up! Ready to go!" picked up. Though Obama has said this effort was not about him, his campaign chant and the gushing praise of his vice president made it seem otherwise.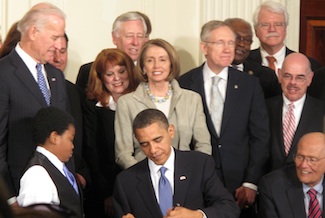 "You want me to stop because I'm embarrassing you," Biden joked. "But I'm not going to stop for another minute, Mr. President, because you delivered on a promise -- a promise you made to all Americans when we moved into this building. Mr. President, you are -- to repeat myself -- literally about to make history."
He was so excited that as he embraced the president following his introductions, he was overheard telling Obama: "This is a big f------ deal." The White House later had fun with the open-mic gaffe, with Robert Gibbs tweeting: "Yes Mr. Vice President, you're right."
Obama returned the praise, thanking all those in the room. A chant of "Nancy!" erupted as he singled out the House Speaker.
"That our generation is able to succeed in passing this reform is a testament to the persistence -- and the character -- of the American people, who championed this cause; who mobilized; who organized; who believed that people who love this country can change it," Obama said. "It's also a testament to the historic leadership -- and uncommon courage -- of the men and women of the United States Congress, who've taken their lumps during this difficult debate."
One of those Congressman, New York's Gary Ackerman, shouted out: "Yes we did!" The room laughed. They can laugh now that the effort is mostly finished. Fear about the electoral consequences of the vote has been replaced, for the time being, by a sense of euphoria and even hope that the tide will indeed begin to turn as the focus turns toward implementation.
Indeed, Obama's remarks today focused primarily on the immediate effects of the new reforms legislation, what would take effect this year. But he also looked beyond, essentially arguing that today's outcome validated his long-term strategy.
"Our presence here today is remarkable and improbable. With all the punditry, all of the lobbying, all of the game-playing that passes for governing in Washington, it's been easy at times to doubt our ability to do such a big thing, such a complicated thing; to wonder if there are limits to what we, as a people, can still achieve," he said. "It's easy to succumb to the sense of cynicism about what's possible in this country. But today, we are affirming that essential truth -- a truth every generation is called to rediscover for itself -- that we are not a nation that scales back its aspirations."