Obama Says He's Open To GOP Ideas, Not Posturing
President Obama outlined his vision for a bipartisan approach to health care today, saying that while he was open to considering new ideas from Republicans, he had little patience for a prolonged process where parties were more interested in scoring political points.
"We can't afford grandstanding at the expense of actually getting something done," Obama said, arguing that Americans don't want "another year of partisan wrangling" and "posturing."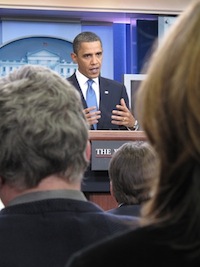 Ahead of a scheduled February 25 summit on health care, the president said he would "start from scratch" only in the sense of giving a new airing to constructive proposals.
"My hope is that we can find enough overlap that we can say, this is the right way to move forward even if I don't get every single thing that I want," Obama said. "Bipartisanship can't be that I agree to all of the things that they believe in or want, and they agree to none of the things that I believe in or want."
Obama's comments came in a surprise visit to the press briefing room, which was emptier than usual as fewer reporters had made the trek to the White House through a snow-covered city. He said today's bipartisan, bicameral shows he's making a genuine outreach, though Republicans argue the White House is only reacting to a new political reality after a year in which they were shut out.
"We're interested in a bipartisan conversation about health care. But a bipartisan conversation ought to be just that: bipartisan from the beginning," House Minority Leader John Boehner told reporters after emerging from today's meeting. "We've been asking to be involved in these health care conversations going back to a letter that we sent to the president last May, and we got no response to it."
And just this afternoon, Boehner's office released a statement with the title: "White House Health Care Summit: Honest, Bipartisan Conversation or Set-Up For Another Democratic Backroom Deal?" Robert Gibbs, taking questions after Obama departed, would not rule out Democrats pressing forward on health care through the reconciliation process, one option Republicans want ruled out before they come to the table. But he argued it would be hypocritical for them to spurn the session.
"I hear crazy stuff in this town all the time," Gibbs said. But "I can't imagine that a group that wanted to sit down and talk in a bipartisan way with the president about health care would now walk away from the process of sitting down in a bipartisan way and talking to the president about health care."
Even as Obama came emphasizing bipartisanship, he did suggest at least one move aimed at circumventing what he described as extreme Republican obstructionism: recess appointments. The president said rather than "advise and consent," Republicans have chosen to "obstruct and oppose."
Today's impromptu session, while not a full-fledged press conference, was the first extended opportunity for reporters to pose questions to the president since a prime-time, East Room event July 22. Reporters have been increasingly eager for a press conference, and both the Washington Post and New York Times in recent days have noted the lack of one. Instead, Obama has conducted a number of one-on-one interviews, particularly with the major television outlets. Today, three of the six questions he took were from network correspondents, however, while another was from ABC Radio.