GOP Govs Blast Health Care Bills, Claim Dems Also Wary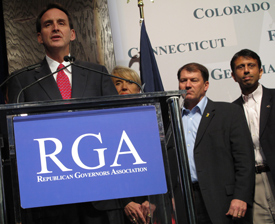 CEDAR CREEK, Texas -- Republican governors expressed strong opposition to versions of health care legislation being considered in the House and Senate, saying both would impose heavy burdens on state governments that are already struggling to balance their books.
In making a joint statement at a press conference here today, the 17 Republican governors on stage said that they spoke as well for many of their Democratic colleagues.
"We've not typically intervened on subjects like this, but we didn't know who else would do it," Indiana Gov. Mitch Daniels said. The non-partisan Nationals Governors Association, he added, "has been paralyzed by partisan reluctance to say what many Democratic governors have said to us privately and a few have said publicly."
Daniels also said many representatives of the business community on hand for this conference have told them that they're make their concerns public as well, for fear that their "business interests would be threatened."
"We just hope that in some way we can contribute to the national dialogue this morning," he said. "There's a far better way forward. Before it's too late let's find it."
Twenty-two of the members of the Democratic Governors Association did release a letter earlier this year in support of the federal policy. The White House has also highlighted the support of former Republican officials.
The major concern that governors outlined was changes to Medicaid that would result in what Gov. Haley Barbour called a $25 billion tax on the states.
"We're concerned about the federal government overreaching and trampling the prerogative of states across this great country," Gov. Tim Pawlenty said. "At a time when state budgets that are tighter than ever, that's not only going to be burdensome. But also from a policy direction, it heads our country in the wrong direction."
Each of the governors who spoke emphasized that they agree improvements need to be made in the health care system, but that the federal fix would not address what they say most see as the biggest concern: cost.
"And when you add millions more people in the public program, then that's just going to be like putting fuel on fire of the whole cost containment issue," Gov. Sonny Perdue of Georgia said.
Louisiana Gov. Bobby Jindal also outlined 10 points where he said there is bipartisan consensus, including portability, tort reform, expanding health savings accounts and rewarding healthy lifestyle choices.
"The bottom line is this: We stand ready to work with the administration and Congress. We're offering bipartisan ideas that really will bring down the costs of health care," he said.