In Turnout Push, Biden Guarantees Corzine Win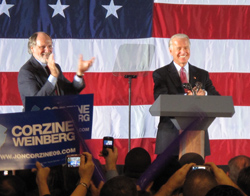 EDISON, N.J. -- In the first of a series of visits from national Democratic surrogates, Vice President Joe Biden urged supporters of Gov. Jon Corzine not to grow complacent as the polls have tightened in New Jersey.
"A lot of people are now thinking this race is over, that Jon's won now," Biden said before a crowd of about a thousand supporters at Middlesex County College. "You and I know that when people start thinking like that, that's a disaster. ... This is just old-fashioned get out the vote now. You get out the vote, I guarantee you Jon's going to win."
The vice president, a colleague of Corzine's in the Senate for five years, focused his remarks here on the impact that the stimulus program has made in, according to him, preventing a recession from growing into a depression. He portrayed the governor as a key adviser and ally in developing the Obama administration's response plan, and contrasted that role to the stated view of Republican candidate Chris Christie that he would have rejected some stimulus dollars. Not doing so would have forced local governments to further raise property taxes, Biden said, touching on an important issue in the coming election.
"Where do these guys live?" Biden asked. "They're talking about cutting property taxes, and then talking about not taking stimulus money. Ladies and gentlemen, I know what all these guys are against. I always have trouble figuring out what they're for."
Acknowledging the difficult climate that governors like Corzine has encountered amid the economic crisis, Biden warned that some who might be inclined to support Corzine are hurting, and may back his rival. Instead, Biden argued, voters should "give the guy a chance to govern in good times" after serving in that difficult climate.
Corzine, signaling how the campaign here is trying to bring the national dynamic into the local race, also discussed the impact of the Recovery Act in his remarks while charging that Christie "would have sided with Sarah Palin and Mark Sanford."
"I'm proud to stand with President Obama and Vice President Biden. I'm proud to be their partner in building a better New Jersey and a better America, because their values are our values," Corzine said. "In less than two weeks, New Jerseyans will go to the polls again. And all the voters will face another choice: do we affirm the politics of yes we can, or do we turn the back on the direction we're taking and go back to the failed policies and bankrupt values of the past."
Both Corzine and Biden discussed health care, a major issue nationally but one that has become especially important in this race, as the Democrats have criticized a plan from Christie they say would drop mandates that require insurers to cover mammograms. Biden said Corzine was at the forefront of instituting these kinds of requirements on insurers in the state.
"The entire trend is trending in the direction that Jon has been fighting for and New Jersey has insisted on. And you have a guy running who says that now is the time to give the insurance companies more leeway in the name of making things cheaper," Biden said. "Ladies and gentlemen, I don't get it. He must be drinking from a different water fountain than you all are drinking from. I really don't get it."
Biden's visit is the first in a week's worth of events for Corzine with the party's top surrogates. Former President Clinton will rally voters Tuesday night, followed by a visit from President Obama Wednesday and Caroline Kennedy on Thursday. Christie's campaign has countered by planning intentionally low-profile events focused on taxes, jobs and the economy.