Obama To Democratic Governors: Tough Choices Still To Come
At a fundraiser meant to boost the Democratic Party's chances in upcoming gubernatorial elections, President Obama acknowledged how the down economy has made it tough on state leaders, and warned that "the tough choices they'll have to make will not end anytime soon."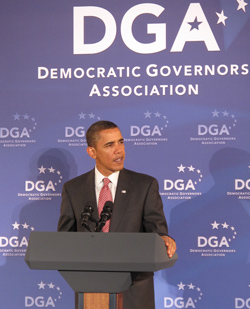 But he praised the work of the 28 Democrats who hold governor's offices across the country, adding: "What I hope has made their job easier and will continue to make their job easier is knowing that they've got a full committed partner in the White House." He also said the stimulus program has cushioned the blow somewhat, while arguing that health care reform was "absolutely critical" in continuing on the road to recovery.
As evidence, he cited a Robert Wood Johnson study that found that even in a best-case scenario, employers would see premiums rise 60 percent in the next decade.
"That kind of future is bad for entrepreneurs, it's bad for businesses, it's bad for the United States of America," he said. "We can't afford a health insurance system that hampers America's economy in the 21st century. We need a health system that unleashes its potential."
Reforming the system will boost the economy because it will "encourage more entrepreneurs to take a gamble on a good idea," Obama said.
Obama's remarks today were otherwise light on politics despite the partisan setting, something of a surprise given how "fired up" he's gotten at other party fundraisers. The event at the St. Regis Hotel was set to raise more than $500,000 for the Democratic Governors Association, which seeks to hold on to Democrats' majority in the 39 elections taking place this fall and in 2010. The DGA had already raised a record $11.6 million through the first half of the year.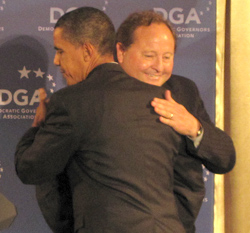 DGA chair and Montana Gov. Brian Schweitzer (D) introduced Obama, offering the health care wisdom of one of his state residents who happens to be the oldest man in the world. Also on hand were Govs. Martin O'Malley (Md.), Jack Markell (Del.), Chet Culver (Iowa), Perdue (N.C.), Beshear (Ky.) and Nixon (Mo.). Two candidates also attended -- Florida's Alex Sink and Nevada's Rory Reid.