Obama: Don't Think I Deserve Nobel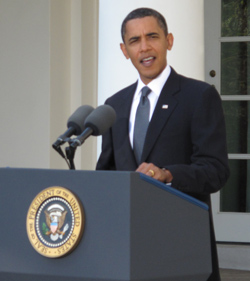 President Obama's statement accepting the Nobel Peace Prize reflected the shock, even in the White House, that he won the award with so few tangible accomplishments on the world stage.
"This is not how I expected to wake up this morning," Obama said in the Rose Garden, adding that his daughter told him not only about the Nobel win, but their dog's birthday.
Obama said he was "surprised and humbled" by the decision of the committee, and views it not as a personal award but an "affirmation of American leadership." In a rare moment of modesty, he continued: "To be honest, I do not feel that I deserve to be in the company of so many of the transformative figures who've been honored by this prize, men and women who've inspired me and inspired the entire world through their courageous pursuit of peace."
The president will travel to Norway to accept the honor, "as a call to action, a call for all nations to confront the common challenges of the 21st century." In his six-minute address, he also reflected difficult decisions ahead on Afghanistan, and also in confronting a global economic downturn. The RNC had earlier dissed the honor, saying Obama "won't be receiving any awards from Americans for job creation."