Boosting Corzine, Obama Paints Christie As Typical Republican
HACKENSACK, N.J. -- Seeking to build momentum for a Blue State ally, President Obama portrayed Chris Christie a creature of the national GOP as he campaigned for Gov. Jon Corzine's re-election for the second time this year.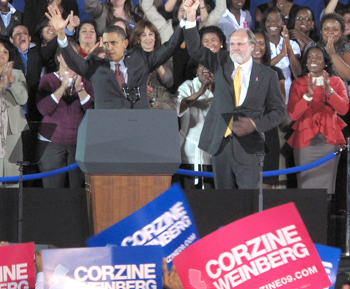 Obama acknowledged economic woes that are a key reason why the Democratic incumbent faces a tough battle. But at a boisterous rally in the key battleground of Bergen County tonight he urged voters to keep Corzine at the helm, calling him an "honorable man" who has helped stave off an even larger crisis.
"Listening to Jon's opponent, you'd think that New Jersey was the only state in America that's been swept up in the worst economic crisis since the Great Depression, which by the way did not start under Jon Corzine's party's watch," Obama said. "This crisis came about because of the same sorts of lax regulation and trickle-down economic theory that the other guy's party has been peddling for years."
Echoing some of his partisan rhetoric of late, Obama continued: "I'm telling you, these folks, they got a lot of nerve. They leave this big mess and suddenly they're complaining about how fast we're cleaning it up."
An estimated 4,000 attended the late afternoon rally on the campus of Fairleigh Dickinson University, which also included an appearance by Caroline Kennedy. The enthusiasm was high among the partisan crowd, and even the president joined into a chant of "Four more years" at one point.
As at rallies with former President Clinton and Vice President Biden earlier this week, Corzine himself spoke briefly, leaving it to the party super-surrogates to list his accomplishments. Obama spoke of Corzine in very personal terms, calling him "one of the best colleagues I had in the Senate and he's one of the best partners I have in the White House." He also teased the governor's unkempt persona.
"[Jon] is not somebody who, you know, always look well-groomed. I mean, Jon's hair kind of goes frizzy sometimes and, you know, his beard gets a little, you know, straggly sometimes." But perhaps he was unaware of Christie's image, and the Corzine camp's subtle efforts to mock it. Obama spoke of a "slick" rival, a term most would not attribute to Christie.
In his closing pitch, Obama said voters should re-elect Corzine because he's practicing the same kind of politics in the state as Obama is nationally. "New Jersey now has a governor who's bucking that trend, who's refusing to go along with business as usual. He's telling the truth about the challenges you face and he's making every effort to meet them," he said. I'm here today to urge you to cast aside the cynics and the skeptics, and prove to all Americans that leaders who do what's right and who do what's hard will be rewarded and not rejected."
About four times that number came to the first Obama-Corzine rally in July, when tickets were more widely distributed. Corzine said last week that he was hopeful for still one more visit by the president, which may come the weekend before election day. No details have been confirmed by the White House or the Corzine camp, however.