Scenes From The White House: Lord Stanley
For the second time this year, President Obama found himself honoring a championship team from the Steel City at the White House. Today, it was the Stanley Cup Champion Penguins, who defeated the defending champion Detroit Red Wings this June.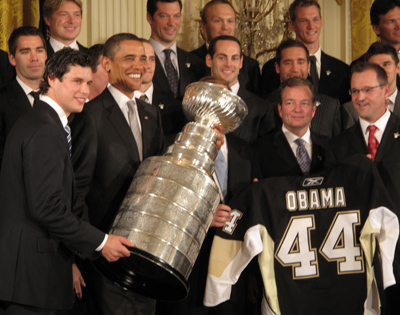 "I guess it's a good time to be a sports fan in Pittsburgh," he said, drawing applause from the East Room audience full of team employees, family, as well as local youth groups. "I was complaining about this -- it's been a while since Chicago won anything," he added.
Obama has shown plenty of love to pro football, basketball, and Major League Baseball this season -- but not so much to hockey. Still, he made an effort to show some knowledge of the sport. He said having team owner and hockey great Mario Lemieux at the White House was "a pretty big deal." He even gave a shout out to the hometown Washington Capitals, who lost a hard-fought playoff series to the Penguins in this year's playoffs.
But it was the famous Stanley Cup that Obama seemed most excited about. "I've seen a lot of trophies -- there is something special about the Stanley Cup," he said. At the end of his remarks, he marched over and grabbed the big silver trophy himself, seeming to surprise many in the audience and the Cup's white-gloved handlers.
America has a famous "hockey mom." Does the team think the first fan could show some more respect to their sport?
"We know how busy the man is," head coach Dan Bylsma said after the event. "We'd love to have him at center ice dropping a puck, but at the same time he's dealing with a lot of issues that are extremely important right now for our country, so we'll give him a break."
Obama was so busy that he actually kept the audience waiting for nearly an hour. He had been meeting with centrist Democratic senators in the afternoon.
"I'm sorry to keep you guys waiting -- I have all these things I've got to do," he said.