Biden: Prospects For Health Care Deal "Very High"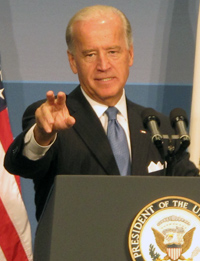 Vice President Biden offered a bit of a preview of President Obama's message to a joint session of Congress next week, saying Americans can expect to hear "specifically" and in "understandable, clear terms what our administration wants to happen." He also sounded extremely confident that a reform bill will pass, while noting that similar legislation of this magnitude also passed only narrowly.
"We're going to get something substantial. There's going to be an awful lot of screaming and hollering before we get there. But I believe we're going to get there," he said.
Biden headed to the Brookings Institution to give what was billed as a major speech on the Recovery Act at the 200-day mark. When asked at the end of the event to comment on the status of health care reform, Biden was sheepish at first. "I do foreign policy. I don't do health care," he said. "The reason I choose foreign policy - it's a lot easier than health care. And a lot less complicated."
After assuring the crowd he was joking, he said he didn't want to step on Obama's "major" speech next Wednesday. He did discuss investments made in modernizing medical records through the Recovery Act to transform an "absolutely archaic" system. "If we modernize health care record-keeping, we will save tens of billions of dollars," he said. "That's what I meant by you've got to spend some money to save a lot more money."
Looking at proposed legislation, Biden avoided commenting on specifics like a public option. "But I can answer the question, do I think we will get it? ... I think the prospects for success are high. I think they are very high."
First, he said, most of the stakeholders, with the exception of insurance companies, are on board. "[Doctors] desperately want health care reform, American business wants health care reform. Hospitals know there's a need reform," he said. "I've been around this town a long time as a United States senator. We have never had this many stakeholders invested in the need for fundamental change in the status quo. And that is a powerful engine all by itself."
Secondly, he said that "notwithstanding all the scare tactics" by opponents, "the vast majority of the American people" want reform. "Those who have it are desperately afraid they're going to lose it. Those who have it and have had to dip into it know that their premiums go up without any rhyme or reason in their mind. Small businesses are getting clobbered as a consequence of it. And so, there is a real sense of need," he said.
He did seem to suggest that the White House has no grand hopes for bipartisan compromise.
"Think about every major change in health care: they passed by a couple of votes," he said. "There weren't a whole lot of Republicans falling over themselves for Medicare. .... There aren't a lot of people falling over themselves in the mid-30s when Social Security came along."