TOTUS 2.0?
At today's East Room event honoring Justice Sonia Sotomayor today, something was different. President Obama was speaking from a script, but the famous "TOTUS," or "Teleprompter of the United States," was nowhere to be seen.
Rather than the familiar glass panel setup that frames the presidential podium, the White House staff positioned two large LCD screens at the edges of the seating areas for him to read from. The difference is significant. The traditional teleprompter is very conspicuous, especially to the audience in the room. It also makes things difficult for photographers, who can find few positions to take pictures that are un-obstructed.
Consider these photos, first the traditional teleprompter used for much of his administration, and secondly the newer setup, with one of the television monitors positioned far across the room.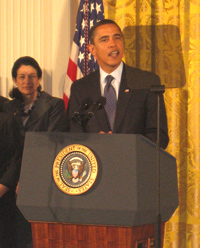 The White House has used the LCD screen before -- just one screen positioned directly in front of the president -- at his prime time press conferences. Using two screens on opposite sides of the room allows Obama to continue "oscillating," turning from one side to the other, as he's apparently more comfortable with.
One of the criticisms of the traditional teleprompter is that it can make Obama look as if he's not really engaged with his audience, in addition to feeding the derision from some that he is overly dependent on a script. Using this less conspicuous setup eliminates to some extent that perception problem.