Scenes From The White House: Taking The 48 For A Ride
The White House went all out for a Red State pastime today, honoring the 2008 NASCAR champion, Jimmie Johnson.
"NASCAR is a uniquely American sport," President Obama said, flanked by some of the sport's biggest names. "Since its humble beginnings, when moonshiners raced on the sands of Daytona Beach during prohibition, it's grown into a sport with tens of millions of fans here in America and around the world."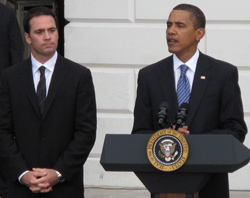 Off to the president's left was Johnson's 48 car. "You know, it is not every day that we have a championship stock car parked out on the South Lawn," he joked. In exchange for free parking, he continued, Johnson should let him take it for a few laps. The punch line: "He said that was fine -- but Secret Service didn't think it was fine."
Also on hand in addition to current drivers was "The King," Richard Petty. Oklahoma Gov. Brad Henry (D) also made the trip; some Wounded Warriors from Walter Reed and Bethesda Medical Center sat in the crowd.
Unlike previous sport champions events under Obama, a full grandstand for the press was set up. NASCAR reporters from various outlets were on hand for the event; one cable network was also broadcasting live from the South Lawn. Another pic from the affair after the jump.