Scenes From The White House: Happy Birthdays
As has been pointed out endlessly, today is President Obama's 48th birthday. Coincidentally Helen Thomas, the dean of the White House press corps, celebrates her 89th birthday on this August 4th as well. To mark the occasion, Obama made a rare cameo in the press briefing room to personally deliver cupcakes to Thomas, and lead the press corps in singing "Happy Birthday."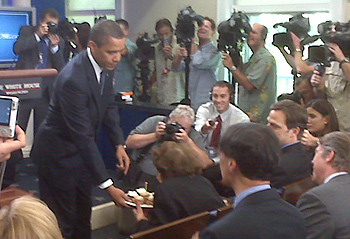 Despite the tough questions she often lobs from her front row perch, the president had nothing but praise for the veteran reporter, even giving her a kiss on the cheek and sitting down next to her to pose for photos.
"Helen wished for world peace, no prejudice," Obama said. "But she and I also had a common birthday wish. She said she hopes for a real health care reform bill."
He then said it was up to Thomas to decide how to distribute the other cupcakes. He didn't take any questions and quickly exited. Thomas had also been feted earlier outside press secretary Robert Gibbs' office with cupcakes brought by a member of the press crops.
Obama had his own birthday cake as he marked the occasion during a luncheon with Senate Democrats. You can see a picture of the presidential birthday cake, obtained by NBC's Savannah Guthrie, after the jump.