Rubio: Conservative Test Case?
Florida Senate candidate Marco Rubio (R) gets the cover treatment in the forthcoming issue of National Review, highlighting his uphill race against Gov. Charlie Crist (R).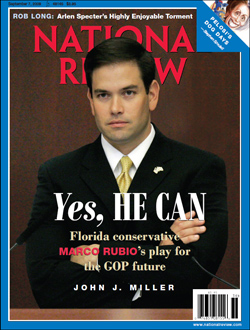 Though several stories of late have focused on a Rubio exit strategy, either dropping out from the race or a musical chairs appointment scheme that would land him in Congress, the piece by John J. Miller sees momentum for the upstart challenger.
Rubio's efforts on the campaign trail are starting to pay off. This summer, he has won lopsided victories in straw polls conducted by GOP executive committees. In June, Pasco County Republicans favored Rubio by a vote of 73 to 9. In July, Rubio trounced Crist in Lee County (60 to 11) and Highland County (75 to 1). Technically, these tallies are meaningless. Yet they express a growing disillusionment with Crist at the party's core. The governor's global-warming alarmism has unsettled conservatives for a long time. Then there's his appointment of a liberal to the state supreme court, his approval of a state budget that raises cigarette taxes, and his hug of Obama at a political event in support of the president's spending plans. On August 12, Republicans in Palm Beach County held a vote to censure Crist. The measure failed, but only because the final vote was a tie. In this environment, Rubio begins to look like an attractive alternative.