Obama Praises Afghan Resolve After Elections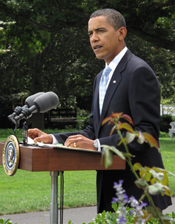 In his final public appearance before a week-long vacation, President Obama called the elections in Afghanistan an "important step forward" for the people to reclaim their future.
"We knew that the Taliban would try to derail this election," he acknowledged. "Yet even in the face of this brutality, millions of Afghans exercised the right to choose their leaders and determine their own destiny. And as I watched the election, I was struck by their courage in the face of intimidation, and their dignity in the face of disorder."
Echoing a refrain from his inaugural address, he talked of the contrast between "those who seek to control their future at the ballot box, and those who kill to prevent that from happening."
"I believe that the future belongs to those who want to build -- not those who want to destroy," he said.
He sought to emphasize the United States' neutrality, saying our interests were in continuing to work with whoever emerges to "strengthen Afghan security, governance, and opportunity."
As he stepped toward Marine One en route to Camp David, a reporter asked for his reaction to the "hero's welcome" that the Pan Am Bomber received in Libya yesterday. Obama called it "highly objectionable."