Obama Honors Justice Sotomayor
The East Room was filled to capacity this morning as President Obama took a victory lap with his first Supreme Court choice, celebrating what he said was "an extraordinary moment for our nation."
"We celebrate the impact Justice Sotomayor has already had on people across America who have been inspired by her exceptional life story," he said. "And we celebrate how, with their overwhelming vote to confirm Justice Sotomayor, the United States Senate -- Republicans and Democrats -- tore down yet one more barrier and affirmed our belief that in America, the doors of opportunity must be open to all."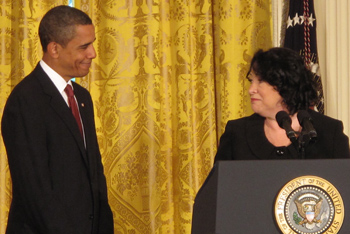 Justice Sotomayor, in very personal remarks, said she was "deeply humbled by the sacred responsibility" she now has, and asked Americans to "wish me divine guidance and wisdom in administering my new office." She also spoke of her background, the source of such debate during the confirmation process.
"I am most grateful to this country," she said, adding that her confirmation "would never have been possible without the opportunities presented to me by this nation."
She drew an extended standing ovation as she invoked the Constitution, saying it "draws together people of all races, faiths, and backgrounds from all across this country who carry its words and values in our heart. It is this nation's faith in a more perfect union that allows a Puerto Rican girl from the Bronx to stand here now."
The room was full of family and friends, as well as members of Congress who supported her nomination and home-state officials like Gov. David Paterson. Also on hand, two of the justices who may be next to step down from the Supreme Court: John Paul Stevens and Ruth Bader Ginsburg.