At Deeds Rally, Obama Knocks GOP Critics
McLEAN, Va. -- President Obama again used a campaign rally to lob some partisan firebombs in defense of his handling of the economy, challenging Republicans to quit complaining about a fiscal situation they helped create.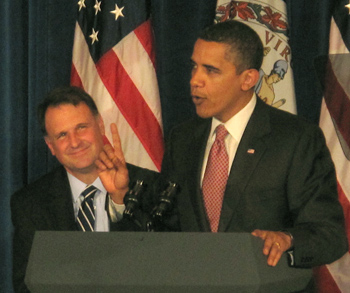 "I expect to be held responsible for these issues because I'm the president," he said. "But I don't want the folks who created the mess doing a lot of talking. I want them to just get out of the way so we can clean up the mess."
Preaching to the choir at a rally for Democratic gubernatorial candidate Creigh Deeds, he repeated: "I don't mind cleaning up after them, but don't do a lot of talking. Am I wrong, Virginia?"
Obama tied his discussion of fiscal policy to the "prudent" example of Democratic governors Mark Warner and Tim Kaine, saying Deeds would continue that.
"When I walked in, we had a $1.3 trillion deficit," Obama said within hours of the CBO announcing that the deficit had, in fact, reached $1.3 trillion. He claimed, actually, that "without my policies, we'd have an even higher deficit going forward," though he excepted the stimulus bill which he said "we had to do in order to get this economy moving again."
"You can't go out there and charge up the credit card, go on ... shopping sprees that didn't grow the economy, hand over the bill to us and say why haven't you paid it off yet. I got that bill from you!" he said.

The Deeds campaign estimated the crowd at the Hilton hotel here at 1,800, what might be the smallest crowd Obama has drawn for a political rally in a year. It was his first event with Deeds, who has been drifting further behind former state Attorney General Bob McDonnell since his surprise win in a Democratic primary. Deeds, a state senator, has largely campaigned in rural areas -- "Deeds Country," as he calls it -- since that win.
Speaking to smaller crowd of donors before the main rally, Obama offered straight talk.
"Let's be honest: This is going to be a tough race," he said. Despite a string of statewide victories for the party, including himself, he said Virginia is "still a purple state." "The key right now is making sure we fight through the doubt, fight through the cynicism," he said.
Polls show not only Deeds trailing, but Obama slipping in the state he carried last fall. A Deeds spokesperson said that while tonight's rally could only help rally the base, Deeds needs to focus more on demonstrating he's a "Virginia Democrat" and not necessarily an "Obama Democrat."
The spokesperson denied that Deeds was distancing himself from the president, however. And Deeds talked up Obama's record six months into his term as he introduced him.
"If someone had said to you in January or March or last month or even last week that within six months of taking office, we would see the stock market regain one-quarter of its value, or banks line up to repay their TARP bailout funds, or that the housing market and other leading economic indicators would show signs that our economy was starting to recovery, the smart people would have said that you're naïve," he said. "We're not completely on the road to full economic recovery, not for every family, not in the part of the country where I live, [but] we've come a long way to restore confidence and pride in America. And we're not done yet."
Gov. Tim Kaine, now the DNC chairman as well, spoke of keeping Democratic momentum going while noting the mojo in the ballroom, where the party celebrated big victories last fall. Obama, too, urged Democrats in the room not to let up.
"I need every one of you to knock on doors and make phone calls and get fired up once again so that we can go towards the future, confident with Creigh Deeds leading the great Commonwealth of Virginia," he said.