Scenes From The White House: WNBA Champs Honored
President Obama hosted the WNBA champion Detroit Shock today at the South Portico, paying special praise to the 12-year old women's professional sports league.
"It's hard to believe," the president said of the WNBA life span. "That means that my daughters have never known a time when women couldn't play professional sports. They look at the TV and they see me watching SportsCenter and they see young women who look like them on the screen."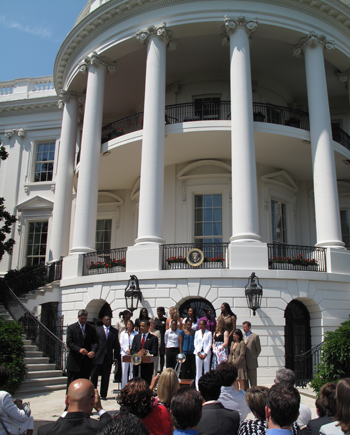 Obama, a Chicago Bulls fan, joked as he also welcomed former Detroit Piston Bill Laimbeer, now the Shock head coach.
"I never imagined that I'd be saying: Congratulations, Bill Laimbeer. Or, congratulations, Rick Mahorn," he said. "If I knew I was President then, to think that I'd be inviting them to the White House is hard to take. But let's face it, these guys are winners."
Obama was given the customary team jersey (don't think he'll wear the "Obama" #8, though) and signed ball. "If anyone wants to play HORSE ..." he said after accepting it.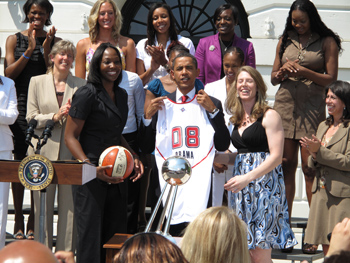 As he made his way back to the Oval Office, the baller-in-chief was seen showing some skills -- a quick dribble and hook pass to an aide.