RIP, TOTUS
In what was an otherwise dry speech by the president about urban issues in the Eisenhower Executive Office Building today, a bit of levity. One of the two panels of President Obama's teleprompter (sometimes referred to jokingly as "TOTUS") came crashing down mid-speech. Here's the shattered remains: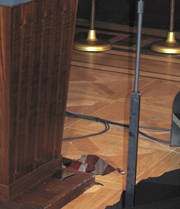 "I'm sorry about that, guys," Obama said after the impact made a loud noise.
He continued on with the speech, relying on the one remaining panel to his right, and the draft of his speech that was placed on his podium. He occasionally did glance to his left where the panel once stood, but managed to finish without any noticeable issues.