DeMint Endorses Rubio At Joint Hill Event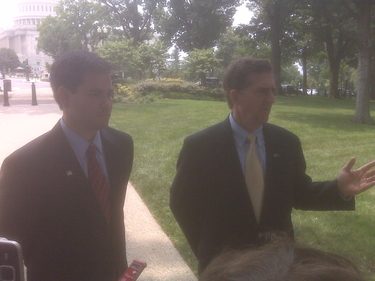 Sen. Jim DeMint's (R-S.C.) endorsement this morning of Marco Rubio in next year's Florida Senate race puts the first term senator at odds with his party leadership, which is backing Gov. Charlie Crist. With Rubio by his side at a press conference on Capitol Hill today, DeMint emphasized that Rubio is the kind of leader Republicans need to win back power in Congress and get the country back on the right track.
"We've got a real diamond in our own backyard," DeMint said of the former Florida House speaker. "And he'll be one of the ones to lead our party out of the wilderness."
The National Republican Senatorial Committee endorsed Crist just minutes after he announced his candidacy last month. The campaign committee explained that it saw Crist as the most electable in the general election, though DeMint argued today that Rubio was just as electable.
Before announcing his endorsement, DeMint spoke with both NRSC Chairman John Cornyn (Texas) and Senate Minority Leader Mitch McConnell (Ky.), who said "he's fine with the direction I'm going," DeMint said. At the press conference, the senator railed against any Republican who believes there should not be a primary.
Crist's name I.D. and national party backing will give him what's expected to be a large fundraising advantage over the young state representative. The exact numbers won't be known until next month when campaign finance reports are due.
"Marco's in a lot better position to win than I was" in 2004, DeMint argued. "Fundraising will come."
Rubio assured reporters he knows what he's getting himself into.
"I'm not involved in a fundraising contest," Rubio said. "We're going to raise the money we need to communicate with voters. I'm fully cognizant of what this race will require."
A Quinnipiac University survey released last week found Crist leading with 54 percent to Rubio's 23 percent. Besides fundraising, Crist also holds a high favorability rating among voters -- yet another obstacle for Rubio's chances. The two will meet in September 2010.
During a morning phone call from Crist, DeMint said he told the governor he would support his Senate candidacy if he makes it to the general election, but that he was throwing his full support behind the more conservative Rubio in the primary. DeMint's support for Rubio stems from when they first met a few weeks ago, during which, he told reporters today, he was moved by what Rubio had to say.
"When I heard him talk about his vision for the country, I wanted to break down and weep because I don't hear those words spoken too often," DeMint said.