Pitt Hits The Capitol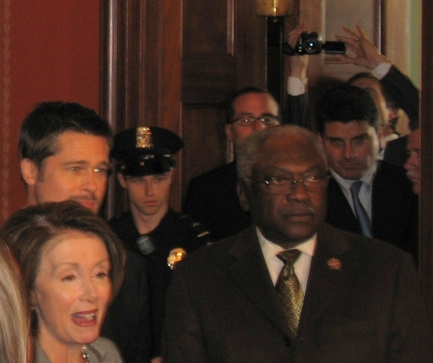 Actor Brad Pitt is making quite the scene inside the Capitol this afternoon. Teenage congressional pages were lined up 50 deep -- clogging the entrance to the Rotunda -- waiting to catch a glimpse of the Hollywood hunk.
A seemingly equal pack of reporters and photographers were bunched together by the Speaker's Balcony for a photo opportunity. Pitt spoke briefly at a photo op with Speaker Nancy Pelosi and Majority Whip James Clyburn, just before walking into Pelosi's office for a meeting.
"Did you see him?" asked one female reporter to another, as the photo op ended.
"He said like four words," the other woman said.
While Angelina Jolie films her upcoming movie "Salt" in D.C. over the next few days, Pitt met with Pelosi today to discuss his "Make It Right" project, which aims to help rebuild the Lower 9th Ward of New Orleans.
Just outside the Rotunda, the pages were continuing to wait for Pitt, hoping to see him on his way back out. "It just doesn't pay off to get here first," said one anxious female page to another.