Strategy Memo: Too Much Excitement
Good Tuesday morning. It's been Christmas Eve for political junkies for days, but the anticipation of two vice presidential picks is only getting more intense. Here's what a nervous and excited Washington is watching today:
-- The House takes up a number of minor measures that will not make waves today, while the Senate is working on an oil speculation measure that the House dealt with last week. President Bush starts his day at the White House signing two popular bills before flying to Cleveland for a tour and to make remarks at Lincoln Electric Company in Cleveland. This evening Bush will attend a fundraiser benefiting Republican Congressional candidates at a home in Gates Milles, Ohio.
-- Strategy Memo is loathe to even touch the hoopla surrounding the vice presidential contest. But this feels like the real deal, with announcements said to be pending from both candidates within mere days. Announcing before the Olympics gives the candidates a high-profile surrogate, additional coverage and the added bonus of a new and stronger fundraiser for the entire month leading up to both conventions. Holding off would build the suspense, but the earliest pick ever -- John Kerry picked John Edwards 20 days before the 2004 convention -- could help more than it hurts.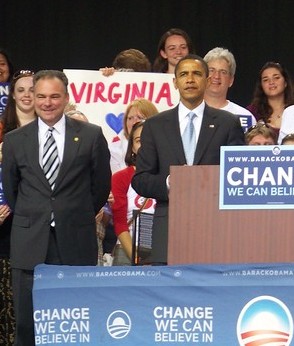 Obama and Kaine at a
Virginia rally on June 5
-- On the Democratic side, all the buzz is accumulating around Virginia Governor Tim Kaine, the first state-wide elected official outside Illinois to back Barack Obama.
Politico
and the
Washington Post
rushed out breathless stories last night as associates of the former Richmond Mayor and state Lieutenant Governor told reporters that Kaine is involved in serious discussions with the Obama team over joining the ticket. Kaine brings credibility with Catholic voters, working class voters, thanks to his humble upbringing, and perhaps, most importantly to Obama's path to 270 electoral votes, credibility with Virginia voters.
-- John McCain, meanwhile, has seriously narrowed down his own vice presidential list, and most concur that two names are left. One of them, Tim Pawlenty, is one of McCain's biggest fans and cheerleaders. Another, Mitt Romney, was a McCain rival until just a few months ago but has turned into a well-spoken surrogate on the economy. NRO's Jim Geraghty reports Pawlenty made the final cut, though he's taking it with a grain of salt. Still, Pawlenty will be in Iowa this weekend for the opening of the Story County GOP headquarters in Ames, the Des Moines Register reports, leading to even more fevered speculation.
-- In short, it looks likely that two white guys named Tim will sit down for a vice presidential debate on October 2 at Washington University in St. Louis. While the picks will certainly fire up McCain and Obama partisans, though, this year they could also uniquely damage both candidates: With McCain still unpopular among conservatives and virtually no Republican with a good reputation among both conservatives and independents, and with Hillary Clinton fans still sore at their party's nominee, there's a good chance that both vice presidential choices succeed in irritating a good portion of the base.
-- Meanwhile, John McCain got huge news yesterday while the entire polling industry emitted a collective groan. Just as the Gallup daily tracking poll was showing one of Obama's biggest leads ever, a Gallup poll taken for USA Today gave McCain a four-point lead among likely voters and just a three-point deficit among registered voters (After trailing by more than that, McCain will take a poll showing him down three). So, Gallup has ... both candidates leading? Gallup chief Frank Newport urges readers to focus on the registered voters, but we'd offer separate advice: Don't look at the polls every day, and when you do, look at them through the lens of the latest RCP Average. It's much easier to spot polls that are trends versus polls that make no sense.
-- Finally, Barack Obama will be on Capitol Hill today meeting with House Democrats, where he is expected to get a warm welcome, the New York Times' John Harwood writes. Obama will address the group's weekly meeting, which can be sparsely attended, at best. But there are likely to be few empty chairs today. That's perhaps the biggest change we've seen from elections past: This time, Democrats are embracing, rather than embarrassed by, their candidate. Congressional candidates could not run from Al Gore and John Kerry fast enough, but for all but the most conservative Southern Democrats, Obama is electoral gold. While Republicans aren't running away from McCain, they're not nearly as enthusiastic (Arizona Republican Rep. John Shadegg, for example, has referred to himself as a conservative in the mold of Barry Goldwater and Ronald Reagan, conveniently omitting his home state senator).
-- Diagnosis Of The Day: What's the real source of Republican woes? A lack of ballot initiatives to use as wedge issues come November, the Los Angeles Times posits. Where once gay marriage bans and property tax caps roamed the land in search of Republican voters to turn out, there now remains only marriage bans in California, where it is polling behind, Arizona, where it has already lost, and Florida, where Governor Charlie Crist tried to keep it off the ballot. Could anti-immigration initiatives be the answer? Try squaring that with McCain, who has been involved in every major reform effort over the last few years. Perhaps the GOP needs to find a new way to take the, erm, initiative.
-- Today On The Trail: John McCain is out west today, with a town hall meeting set for Sparks, Nevada, a small town just outside Reno. He has a fundraiser scheduled at Incline Village, Nevada, before heading off to another finance event in Englewood, Colorado. Obama is in Washington, where yesterday he met with veep adviser Eric Holder (And Tim Kaine was in town for a monthly interview with WTOP, what luck). Today, his only event is to meet House Democrats on Capitol Hill.