McCain's Ups And Downs
As a new Washington Post-ABC News poll shows both Hillary Clinton and Barack Obama leading John McCain, the Republican nominee-in-waiting can find pluses and minuses that will steer his campaign in the coming months. In 2004, much of the presidential campaign hinged on national security. Given recent trend lines, if McCain is able to pull off the same feat, his outlook in six months may be significantly better than it is today.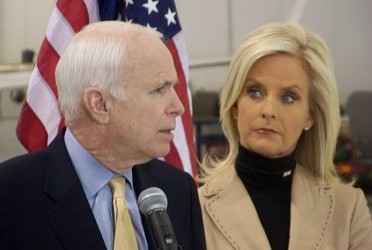 McCain and wife Cindy meet reporters
at Phoenix's Sky Harbor Airport on Monday
A month after Democrats took over Congress, in December 2006, the war in Iraq found a new valley. Dissatisfaction with the war drove the party's huge congressional gains, and just 31% of those surveyed thought the U.S. was making progress toward restoring civil order in Iraq. Since then, after the so-called "surge" McCain backed, that number has risen steadily, reaching 43% in this month's survey, compared with 51% who say U.S. forces are not making progress.
Paired against Obama, McCain needs the war in Iraq and national security to play a central role. McCain beats Obama when respondents were asked who they trust to handle the war (48%-43%) and the campaign against terrorism (58%-33%). Obama, though, roles easily on domestic issues, beating McCain on the economy (49%-37%), health care (56%-30%) and even ethics and immigration issues (48%-35% each).
A potential McCain-Obama matchup could follow generally the same arguments Clinton and Obama have been arguing over for months: Are voters looking for a candidate with strength and experience, or for new directions and new ideas? While Clinton's experience argument has not had the desired effect in a primary, more general election voters seem open to the angle than Democratic primary voters have. 45% say strength and experience is more important to them, while 46% prefer a new direction and new ideas.
McCain has been aided by the Democratic candidates' recent squabbling over national security, an issue that seemed to help Clinton over Obama in Tuesday's primaries. But where national security debates help McCain, his association with the GOP still hurts him. Appearing with President Bush yesterday at the White House, McCain launched another round of attacks from Democrats, who have come up with a new label -- "McSame" -- and asserted his election would be essentially a third term for the current incumbent.
While Bush promised his party's new nominee that he would do everything possible to help, including campaigning alongside him, McCain may want to think twice. Just 32%, in the Post-ABC survey, said they approve of the way President Bush is handling his job, matching his all-time low, also reached in January. The latest RCP Average shows Bush with an average approval rating of just 32.2%, while 62% disapprove. The only good part of being seen with the President right now: Voters have plenty of time to forget the image of the two standing next to each other, though Democrats will do everything they can to remind them.
There will be hundreds of polls pitting McCain against the eventual Democratic nominee, and in early months, most will likely show the Republican with ground to make up. But there are advantages within the numbers. If McCain can successfully exploit them, by shaping the debate around foreign policy, the war in Iraq and national security, he has a reasonable shot at winning the White House in November. If he avoids the pitfalls by staying away from his own party's President, he will increase his chances even further.