Round Two For Edwards, McCain
DES MOINES -- Eight years ago, John McCain beat back a much better funded, better organized rival campaign to pull out a surprise win in the Republican primary in New Hampshire. Four years ago, John Edwards' momentum showed up at the end of the long campaign, catapulting him to a strong finish in the Iowa Democratic caucuses. Today, just hours before the first ballots are cast, both candidates are making their second run at the presidency. Like the last time out, both candidates find themselves in strong positions, though for very different reasons than their previous bids.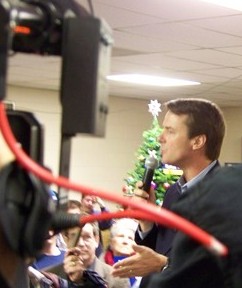 Edwards rallies the troops
In 2000, running against then-Texas Governor George W. Bush, McCain was the decided outsider. His insurgent campaign never took off among rank and file conservatives, despite a largely right-leaning voting record in the Senate and the House. Conservative opinion makers simply could not accept a candidate who led on the campaign finance reform that McCain so enthusiastically championed.
Lacking the traditional platform on which to build a successful Republican campaign, McCain instead won over independents, first in New Hampshire and later in other states where anyone could vote in a GOP primary. His so-called maverick streak endeared him to those looking for a different kind of politician; his free-wheeling chats with the media aboard his campaign bus endeared him to the media, who helped make him a star. Ultimately, though, the Straight Talk Express got a flat, and McCain was sent back to the Senate.
This time out, McCain has fine-tuned his campaign and made needed and necessary corrections. Asked what had improved from four years ago, senior adviser Charlie Black said the ground organizations are broader and deeper. Further, he went on, McCain now enjoys the backing of the influential New Hampshire Union Leader and more than a dozen other Granite State papers, which he did not have in 2000. Those nods, said Black, are "about as big a thing as you can get here in New Hampshire."
The national landscape helps McCain significantly as well. "In 2000, everybody was running in a peacetime election," Black said. "Now, the dominant issue is national security." McCain's long criticism of the Bush Administration's policies in Iraq, which led to increased violence, and his support for this year's troop "surge," which has thus far led to a reduction in violence, have given him a credibility on the war that perhaps no other politician enjoys.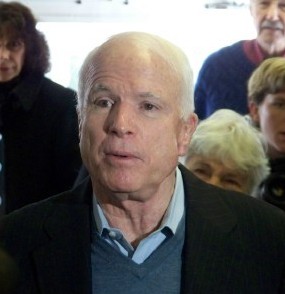 McCain talks to voters in
Milford, New Hampshire
McCain's association with an Iraq strategy that seems to work has boosted his electoral prospects among Republicans. "He's getting a little bit more support from the traditional Republicans this time," said Black. Still, with an unpopular war and Barack Obama proving an enticing option for independent voters, McCain's performance among unaffiliated voters could suffer. "He may be getting a few more mainstream Republicans and a few less independents than last time."
After starting out as an unknown commodity in 1999, McCain built his reputation and his momentum, peaking at just the right moment to catapult to the front of the field. This year, the campaign started down a path toward projecting inevitability. That failed miserably, bottoming out in July when McCain was forced to dramatically cut staff as others left. Many pundits left him for dead, and he had to virtually start anew and rebuild his support from the ground up. That, as it turns out, could have been a fortuitous turn of events: Maverick McCain is a much better candidate than Establishment McCain.
The year is different, and the experiences have been different, but somehow a similar result could be in the cards. "The history and evolution of the campaign is totally different," Black said. But, he noted, "what's happening hear is very similar to what happened in 2000."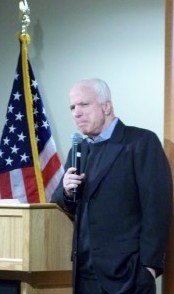 McCain hosts a town hall
at the Timberland company's
headquarters in New Hampshire
Edwards did not win Iowa in 2004, but his above-the-fray nice-guy attitude, plus a populist message that stressed the bringing together of two separate and unequal Americas caught on at just the right time. Edwards managed a strong second-place showing, with levels of support well above what polls had predicted. Suddenly, instead of the anticipated John Kerry versus Howard Dean race that many had expected, it was Edwards who was left with a one-on-one matchup. Many have suggested that, had the caucuses been just a few days later and Edwards' rise allowed to peak, it would have been up to Edwards to choose Kerry as a running mate instead of vice versa.
The former senator, who ran for the White House without seeking re-election to the seat he held for just one term, learned his lesson after pouring over Iowa election returns, and by 2007 he was ready with a new strategy. During his first campaign, much of Edwards' strong performance came from Polk County, the state's largest and home of Des Moines. There, Edwards beat Kerry 40% to 36%, as Howard Dean was the only other candidate finishing in double digits.
Polls have repeatedly shown that while Hillary Clinton and Barack Obama are relying on new caucus-goers to give them a boost, Edwards still enjoys a lead among those who have caucused before. Many of his supporters from 2004 remain on board, and even the converts are valuable: Someone who has caucused before is seen as a more reliable attendee than someone who has yet to show up.
This year, too, Edwards has focused much of his energy on rural counties. He has emphasized his roots outside the city and pitched a plan his campaign says will "restore hope" to rural America. Last weekend, Edwards sent three top advisers -- campaign manager David Bonior, former Congressman Ben "Cooter" Jones, who appeared on "The Dukes Of Hazzard," and political strategist Dave "Mudcat" Saunders -- to meet undecided voters around the state. "We needed to do better [in rural areas], and we have, and we will," Bonior told Politics Nation.
Bonior himself has already been to 61 counties, while his candidate will tell voters, just moments into his stump speech, that he is the only Democratic candidate to hold events in all 99 counties. Edwards strategists say privately that, with so many candidates competing for votes in Des Moines and other urban areas around the state, the rural vote is a deciding factor. And since their candidate is the only one who has been to every county, they believe he is in prime position to sneak off with under-appreciated rural delegates.
In short, unlike 2004, when much of Edwards' support was focused in Des Moines, this year many suspect he will outperform in more far-flung reaches of the state. There's a big benefit to that strategy: If Edwards' campaign is the only one to have contacted a caucus-goer, they are much more likely to earn his or her backing. Edwards' appearances in rural regions could give him a boost where other candidates have not gone. A delegate from a forgotten corner of the state, though, is just as valuable as one from downtown Des Moines.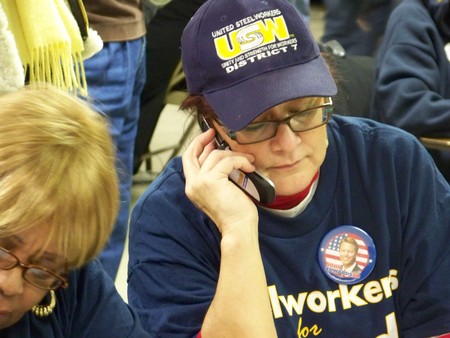 A Steelworker phone banks for Edwards
If Edwards can combine those rural delegates with the many in Des Moines and other urban areas who backed him four years ago, the same momentum that carried him to the number two spot may work even better this year and earn him a victory. And while his lack of organization in New Hampshire prevented his 2004 momentum from carrying over, the campaign has even stocked up on field staff there.
For both McCain and Edwards, having been through the presidential process once before provided irreplaceable experience that they now find useful. Whether it is broadening their political reach, as Edwards has done, or broadening their ideological reach, like McCain, both identified weaknesses from the last attempt and patched them. Now, both are in good positions to win in their respective favorite states.
McCain, in South Carolina, and Edwards, in New Hampshire, each faltered in states where they could not capitalize on their momentum. This time, both have put significant resources into the state that robbed them of a chance at the nominations on their first tries. If they emerge as winners in early states, they will get a second chance to get it right. So far, each has proven adept at a second try.