Previewing An Obama-McCain Showdown
HUDSON, New Hampshire -- The battle for New Hampshire, much more so than the battle for Iowa, rests largely on the shoulders of the 44% of the state's voters who refuse to align with either party. As in 2000, independents -- who may choose either party's ballot on election day -- are being fought over by a candidate from both parties. Unlike 2000, when John McCain succeeded in convincing a large portion of those voters to choose GOP ballots, many see the contest this year much more evenly divided, with McCain having to contend with Barack Obama's popularity among independents.
The two candidates, seen now as top contenders to win their respective nominations, each poll higher than their opponents among independent voters when paired against potential nominees from the other party. In essence, an emerging feud between Obama's and McCain's campaigns offers a compelling preview of a general election matchup that would be fought almost entirely over independent voters. Thanks to both campaigns' seeming momentum, an eventual Obama-McCain showdown is becoming more likely, making the choices of independent voters all the more predictive of November's outcome.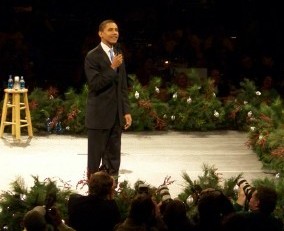 Obama and admiring news photographers
at the Iowa Jefferson Jackson Dinner
in November
As Barack Obama basks in the glory of a big win in the Iowa caucuses and builds momentum toward Tuesday's New Hampshire primary, the candidate is becoming more bold about his chances at the nomination and in November. "New Hampshire, if you give me the same chance that Iowa gave me last night, I truly believe I will be the president of the United States of America," Obama told a crowd of supporters gathered to greet him at the airport in Manchester yesterday morning.
Obama's momentum here, and the potential for a successive victory in South Carolina, where his poll numbers have risen as well, have catapulted the freshman Senator from a strong candidate who nonetheless trailed an overwhelming favorite to the race's front-runner, literally overnight. Political pundits who last week expected Hillary Clinton's so-called fire wall in New Hampshire to succeed and stop Obama now openly wonder where Clinton would find her first victory, if she would find one at all.
Likewise, McCain's chief rivals for the nomination -- Mitt Romney, Mike Huckabee and Rudy Giuliani -- all face challenges that make the second-time presidential contender the favorite in the GOP contest. Romney faced a devastating defeat in Iowa, making New Hampshire a must-win for him, though McCain now leads here. Huckabee does not have the national profile of McCain, and his path to victory relies so heavily on Southern conservatives and evangelicals as to be murky, at best. And Giuliani, once the race's clear national front-runner, has seen national support drop from a high near 40% to just 20.2% in the latest RCP National Average.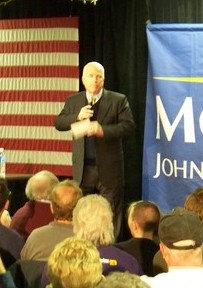 McCain at a town hall meeting
in Hudson, New Hampshire
McCain is by no means the run-away favorite for the Republican nomination. Nonetheless, a path to victory that takes him through Michigan, where he also won in 2000, and many of the February 5 states seems at the moment the most plausible.
While McCain publicly feuds with Romney and Obama has his hands full with Clinton and Edwards, each campaign is depending upon independents to put them over the top. But politics is a zero-sum game, and one candidate's success will come at the price of another. Both, in their darkest moments, have to be concerned that the other could steal votes from them. And occasionally, the tension that is building between the two campaigns will peak through.
"John McCain ... is someone who is going to tap into" the independent voting bloc, former Senate Democratic Leader Tom Daschle told National Journal's Linda Douglass on XM Radio's POTUS '08 channel in an interview that ran Friday.
Daschle, who is backing Obama, explaining why his candidate would outperform McCain among independents in the primary, perhaps inadvertently tipped McCain off to a battle the two campaigns will fight if they are the nominees. "It will be interesting to see how the two candidates do. My feeling is that Barack is more youthful, Barack is more energetic, Barack is the future. John may represent a little bit more of the past."
McCain's campaign will not allow the argument to be framed as one between the future and the past, though, and a top adviser quickly fired back. "This isn't about a candidate's future. It's about the country's future," Mark Salter, McCain's longtime Senate chief of staff and confidante on the campaign trail, said at a town hall meeting here. "Who are you going to go to when you want to solve a problem like Social Security solvency and Medicare solvency: The guy who's done nothing or the guy that's proven?"
"There's one guy with all the right experience, and there's one guy with negligible experience," Salter said. The Obama campaign declined to comment.
Daschle's comment may have been peremptory, said GOP consultant Mike Murphy, who also attended McCain's town hall at Hudson's VFW post. "Both Barack and John McCain are the kind of candidates who are at their best and at their most comfortable running positive campaigns about the future of the country," he said. "I doubt Barack Obama would want to be associated with those kind of comments." Murphy, who worked for McCain during the Senator's 2000 presidential bid, is staying neutral this year because of his close relationships with both McCain and Romney.
Murphy predicted that Obama would defeat Clinton in New Hampshire, largely because the New York Senator does not have the time needed to overcome Obama's momentum. And, he said, while both McCain and Obama are vying for independent voters in their bids for the nomination, "there are enough independents to go around." In 2000, McCain lost among registered Republicans, a scenario Murphy does not envision now. "The regular Republican voters are going to be the base of support, and McCain's very competitive there." Murphy would not offer a prediction for the race's outcome, but said McCain "is definitely surging."
Entrance polls in Iowa showed that Obama performed nine points better among independents than among Democrats, while Clinton pulled more Democratic voters than independent voters by a 14-point margin. McCain relied heavily on independent voters in his 2000 win; he won 62% of independents that year, compared with just 38% of Republicans, while then-rival George W. Bush managed only 19% of independents while beating McCain among Republicans, with 41%, according to exit polls.
Change is a core message for both candidates: Obama says he is running a different kind of campaign and rails against the ways of Washington, while McCain has a long history of legislation aimed at fixing the system from within. The two even worked together on ethics reform in 2006, before a nasty exchange of public letters derailed their cooperation.
Should both candidates make it to the general election, polls show each candidate would largely consolidate their base. Independents, therefore, would be key to electoral success. And while each candidate professes a distaste for negative campaigning, they will be forced to draw contrasts to differentiate themselves. Changing Washington, a familiar topic for both and an issue popular with independents, could be a compelling debate: Do independent voters choose the outsider promising whole-scale overhaul, or the maverick who is often alone complaining about both parties' unwillingness to police themselves?
Answer that question and the riddle of who would win an Obama-McCain showdown would follow. Independent voters in New Hampshire have the chance to do just that in Tuesday's primaries, and how they decide may hint not only at the prospects of an impending general election matchup, but also the very question of whether that matchup will occur at all.