Politics Nation: Heretic
DES MOINES -- The dead period between the end of the last pre-caucus events and the actual caucusing provides time to reflect on the Iowa experience. Des Moines is a great town with plenty to do, good restaurants at which to eat and a State Fair that, as any local will constantly remind you, can't be beat.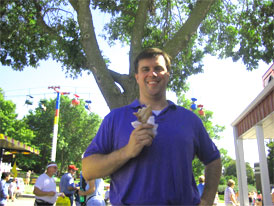 Politico's Jonathan Martin enjoys a pork chop
on a stick at the Iowa state fair this year
Photo credit: Some guy
But there is one myth about Iowa that must be debunked. John McCain,
campaigning in Le Mars
today, said that he wants to come back to Iowa to enjoy another pork chop on a stick. Hillary Clinton has eaten one, and Mike Huckabee even broke a diet to taste one. It is supposedly the quintessential Iowa food.
We will hereby sacrifice all our Iowa readers who will leave in disgust when they learn that Politics Nation did not think the pork chop on a stick was all that great. First of all, it's not on a stick, it's on a bone. Second, we much preferred the pork loin sandwich.
Others, perhaps understandably, have different tastes (see picture). If any reader finds themselves in Des Moines in mid-August, we look forward to, erm, feedback.