NH Crucial To Mitt, McCain
MANCHESTER -- Conventional wisdom holds that, if Mitt Romney fails to win today's New Hampshire primary, any hopes he maintains of the presidency will disappear as the results trickle in. Romney's initial strategy, to win Iowa and New Hampshire, seemed so sound that he chased John McCain and Rudy Giuliani first from competing in the Iowa straw poll and second from the first caucus state itself. But now that he has lost Iowa, and looks as if he may succumb to McCain in New Hampshire, his strategy is in tatters.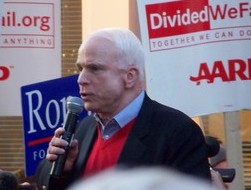 John McCain needs a New Hampshire win
As Romney's dip in the polls continues, McCain has seen a corresponding rise. He now leads Romney in the latest
RCP New Hampshire Average
by 3.6 points, and some believe a win here would propel him to the GOP nomination. But it's not as simple as that. With Romney catching up in some polls, and with McCain running low on cash, McCain is relying on a New Hampshire win as much, if not more, than Romney.
"McCain is a one-state candidate," Romney backer Bay Buchanan said in the spin room at Saturday's debate on ABC. In a vacuum, Buchanan is right. McCain has to win New Hampshire in order to build the momentum to continue his campaign. Without a victory and the attending press coverage, McCain has little chance to catch up to rivals who lead him in Michigan, South Carolina, Florida and in February 5 states.
McCain won Michigan's primary in 2000, has put considerable investment into South Carolina and hopes to compete in Florida. But RCP Averages for all three states show McCain leads in none of them. A win in New Hampshire, and the attending press coverage, would certainly boost his standing in all three states, creating what he hopes is unstoppable momentum leading up to the February 5 mega-contests. A loss here means McCain would have to find another way, if it's even possible, to create that momentum.
Those who begin shopping for a running mate for McCain are, in short, several steps ahead of themselves. On Saturday, while McCain got in sharp, biting responses to Romney's attacks, many felt he went too far and alienated viewers. On Sunday, a much more subdued McCain faced a feisty Romney, who many felt won the encounter among five top candidates.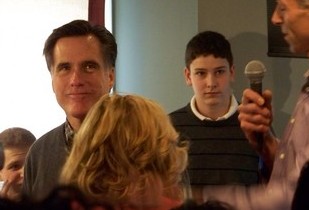 But so does Romney, pictured here
at a house party in Bedford
With much more money to spend, Romney was able to buy two full minutes of television time for his closing argument, which aired last night on New Hampshire stations. McCain has much less money, and has not unveiled a game-changing closing spot. After losing his New Hampshire lead in December and stumbling badly in Iowa, Romney seems to be on the uptick going into today's voting. McCain, while not slumping here, looks to have plateaued.
Politics does not happen in a vacuum. Hillary Clinton is learning this as she watched her already slim New Hampshire lead evaporate virtually over night after Barack Obama won Iowa convincingly. Romney and McCain cannot simply give up on New Hampshire, say they never intended to win it and move on to the next state. Instead, each needs to get a big boost coming out of the Granite State.
For both candidates, that means a win and nothing short of it. Romney can rely on his personal fortune to stay financially afloat after a loss, though his chances of winning the nomination after losing the first two primary states would be slim. McCain does not have the same option. He needs a New Hampshire boost to earn delegates and money to keep his campaign above water through the rest of the primary season.
Both candidates face voters in perhaps the most important single contest of the primary season today. When polls close, the hopes of the GOP nomination will stay alive for one of them. Staffers for the other will likely have to begin thinking about their next places of employment.
No Republican in the modern era has ever won the nomination without winning Iowa or New Hampshire. In this year where all bets seem to be off and something new happens every day, that trend seems like one that is destined to continue.