Morning Thoughts: Oh Boy Obama
It's the day before the New Hampshire primary, an event more than a year in the making. Candidates are all over the place, packing in so many events that some are running hours behind schedule. Somebody's got to win, and we'll find out who tomorrow night. Here's what to watch to get the head start on picking a winner:
-- Today On The Trail: Hillary Clinton meets voters in Portsmouth, Dover and Salem before holding a big rally in Manchester tonight. Barack Obama stops in Claremont, Lebanon and Rochester. John Edwards is in the middle of his second successive 36-hour tour of a key early state, visiting Berlin and Littleton early this morning before heading to Claremont, Lakeport, Bedford, Hampton and Dover. Not enough events for you? He'll later campaign in Somersworth, Rochester and Durham. Bill Richardson drops by a Manchester Dunkin' Donuts, holds a town hall in Durham and stops in Rochester and Portsmouth for drop-ins. Final events tonight in Stratham, Exeter and Manchester follow.
-- On the GOP side, Mike Huckabee will be in Mason before heading to Concord for the inauguration of the Huckaburger (this reporter feels compelled to bring you that event live) and later heading to Rochester. John McCain has rallies in Nashua, Keene, Hanover, Concord, Exeter and Portsmouth, while Rudy Giuliani stops in Nashua, Hudson, Merrimack and Derry. Mitt Romney starts his day in Nashua, then hits Derry and Stratham before swinging back through Nashua on his way to Salem, Bedford and Manchester.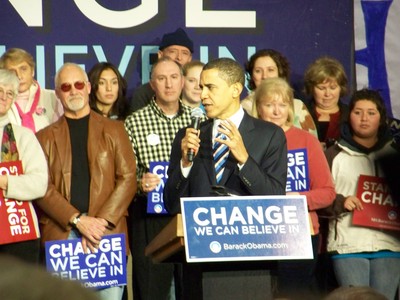 Obama in Derry, New Hampshire yesterday
-- The buzz in New Hampshire is all about Obama today. While John Edwards makes another all-night bus trip around the state and Clinton hits Obama on fake change, one look at the
RCP New Hampshire Average
and it's no wonder the Clinton camp is starting to spin for the worst. Nine polls came out yesterday or Saturday, and in every one Obama led; he leads the RCP New Hampshire Average by 7.8 points, and finds himself up by double digits in some polls.
-- Gary Hart has chosen a candidate, throwing his weight to Obama just a few days before the primary, joining Bill Bradley on the bandwagon. Hart won the 1984 New Hampshire primary, while Bradley gave Al Gore a good scare here. Couple these candidates, who ran largely in opposition to the Democratic establishment, and it starts to make sense: After decades of pent-up frustration with Washington Democrats, Obama has become an outlet for two decidedly anti-Washington mavericks. Could their decades of coming in second to the establishment be over?
-- Obama won Iowa and looks like he might win New Hampshire, two of the whitest states in the union. But the problem with an African American running for president is not that a majority of people will not vote for him -- in fact, polls show that nearly 90% of people say they would vote for a woman or a black man, making each much less an issue than, say, an old guy or a Mormon -- but that thanks to a few nutjobs, their safety would be an issue. Colin Powell, for one, ruled out a presidential bid when his wife said she was afraid he might be shot. After winning Iowa, Obama is getting increased Secret Service details, the Washington Times writes. The Derry police, under the watchful eye of the Secret Service, swept an event and reporters' equipment yesterday with bomb-sniffing dogs, an apparently routine occurrence that this reporter had not witnessed before at campaign rallies.
-- Meanwhile, Republicans were some of the biggest proponents of the idea of Hillary Clinton as presidential nominee, or even Clinton as president. The idea of the Clintons in the White House sends shivers up the spines of many conservatives, but facing a seriously wounded party base, what better way to reinvigorate the GOP than by uniting around a common enemy? The idea, though, of running against Obama keeps some Washington Republicans up at night, the Washington Post writes today. Obama does get a number of Republicans at his rallies -- a self-described "reformed Republican" spoke on Obama's behalf at the rally this reporter went to on caucus night in Des Moines -- and independents. If he wins New Hampshire, which, given the RCP Average above, looks likely, the RNC should start making serious plans in the event of an Obama nomination. Sticking to calling him a liberal, it looks like, will not be enough.
-- In early debates, the promise of beating Hillary Clinton was a guaranteed applause line. Even that's changed now; Republican hopefuls were asked Saturday how they would beat Obama, and Sunday McCain went out of his way to assert to the Post that he would be able to win what would amount to a generational battle between the two. To be sure, Obama's message of change seems to be beating Clinton's message of experience. What happens if Obama has to run against a combined change-with-experience message? We can't help but think a McCain-Obama matchup remains the most likely scenario for November. Others, like American Thinker's Richard Baehr, think the matchup is Republicans' only hope of keeping the White House.
-- Speaking of Republicans, they sat around a table at St. Anselm College last night for a Fox News forum that a lot of campaigns got to claim they won. Jim Geraghty says Fred Thompson, Rudy Giuliani and John McCain did the best, while Mitt Romney was most improved. Romney won the Frank Luntz focus group, though how accurate any of those things are is anyone's guess. In fact, even the Fox News debate had the feeling of an audition for the role of Obama foe, Chuck Todd writes.
-- Looking ahead, Democrats will have eleven days to recuperate and relax after New Hampshire, leading up to the Nevada caucuses on January 19. Republicans have a week of down time, minus a debate in South Carolina on Thursday, before Michigan voters head to the polls, followed by Palmetto primary-goers the same day as Nevada for the Democrats. After spending millions in Iowa and New Hampshire in recent days, the candidates can get precisely one night of real sleep before they embark on a new and crucial task: Replenishing their coffers for what now looks like a guaranteed long campaign, as the Boston Globe writes today. For some, like Huckabee and Obama, that task will prove significantly easier than it will for others.
-- Questionable Decision Of The Day: No, we didn't pull a Fox News and exclude Ron Paul from our "Today On The Trail" segment for no good reason. Instead, he's canceled his events in New Hampshire today, according to New Hampshire Presidential Watch, in order to fly to Los Angeles and tape a show with Jay Leno. Instead, Barry Goldwater Jr. and Rand Paul, the candidate's son, will stump for him in the Granite State. Look, Leno's good publicity, but Paul actually has a chance to do something interesting in New Hampshire. Should he really have passed on the opportunity to spend one more day here?