Is FL Crucial To Romney?
As we wrote this morning, Mitt Romney has dominated the Florida airwaves, broadcasting almost three times as many ads as John McCain has this month alone. And while it has been assumed, by this writer as much as any, that Romney will move forward with his campaign, and in reasonably strong position, regardless of his Florida finish, some signs suggest that the campaign is waiting with baited breath, hoping for a win before they make future plans.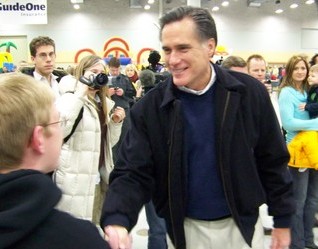 Romney greets voters in Des Moines on New Years' Eve
Time's
Mark Halperin
notices that, while Democrats Barack Obama and Hillary Clinton -- and, within a few hours, even John Edwards -- are running ads in February 5 states, Romney and other Republican hopefuls are not. While John McCain and Rudy Giuliani are probably out of money, Romney, as he has done throughout the year, can write himself a check.
But instead of getting a head start on his rivals, Romney remains dark in Super Tuesday states. Campaign spokesman Kevin Madden says the campaign is going according to plan, though. "It's our goal to be competitive in all these early states," he says. "You can make the case that you have a growing level of momentum" heading into February 5.
Still, the situation appears similar to the week between New Hampshire's primary and the Michigan contest, in which the campaign pulled ads from Florida and South Carolina to focus their attention on the Wolverine State. Conventional wisdom held that Romney was acting the businessman: Why continue to throw good money after bad, when he might not win the nomination?
After winning in Michigan, Romney put enough resources behind his Florida effort to put him in the position he finds himself today: Very near, if not at, the top. Still, without a larger investment, Romney remains an underdog in February 5 states. Romney lacks a national profile, and he would have to introduce himself to voters, unlike McCain, who can coast on his name recognition.
The absence of further ad spending, then, seems to suggest that Romney is awaiting the results of Florida to see whether it's worth it. And given that he's waiting, even as the race boils down to a nail-biter between Romney and McCain, one might conclude that a win in Florida is Romney's only option if he is going to continue.
Madden dismissed that idea. "I don't think any state's a must-win, since we've been very competitive in all these early states," he told Politics Nation. "A very competitive finish is good for us, whether it's a first or a close second." Asked whether Romney had put any additional money behind his candidacy, Madden demurred. "Our FEC reports are due on the 31st," he said.
Florida, unlike previous states, operates under a winner-take-all system. Romney's campaign -- including the candidate himself -- has been the most vocal proponent of the delegate battle theory, by which the primaries do not produce a clear winner and the battle progresses to a convention. Despite Romney's lead in the race for delegates, his campaign may have concluded that, should Florida's 57 delegates fall to McCain, the path to 1,191 representatives at the convention becomes implausible.
Given Romney's lack of spending, one might be led to believe that Florida is just as important to him as it is to Giuliani. Then again, it seems likely that Romney will continue, regardless of the outcome tonight. Madden hinted to Politics Nation that advertising in February 5 states is right around the corner. "We will make those decisions in the next day or so," he said.