How Clinton And Romney Come Back
MANCHESTER -- The campaign for president is about more than just Iowa. For the recent few weeks, the attentions of the national media and most major campaigns have been focused mainly on the nation's first caucus state, but as any candidate, from the ones who beat expectations to the ones who fell flat, will tell you, the contest continues. Not even twelve hours after Barack Obama and Mike Huckabee were declared the season's first winners, the focus has shifted here, to New Hampshire.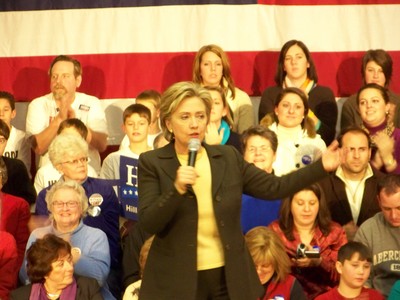 Clinton addresses fans at a
pre-caucus rally in Des Moines
Hillary Clinton, who finished third on the Democratic side despite outspending second place John Edwards and committing huge amounts of time and resources to Iowa, and Mitt Romney, who finished well behind Huckabee in second place despite outspending him by millions of dollars, are cast as the biggest losers in media reports this morning. Each campaign now faces major stumbling blocks in New Hampshire, but each campaign also has the time, and the intelligence, to retool their approaches and rebound.
Clinton's initial inevitability is gone. In fact, she might reasonably be considered an underdog now. Recent polls have suggested Obama is closing rapidly on her lead in New Hampshire, which stands at 7 points in the latest RCP New Hampshire Average, down from a high of twenty points as recently as mid-November. Even worse, Clinton holds just a fraction of a point lead in the latest RCP South Carolina Average. If Obama benefits from a big Iowa bounce in Tuesday's New Hampshire primary, many may start asking the same question of her campaign that they do of one-time GOP front-runner Rudy Giuliani: Yes, they both led national polls, but where do they get their first win?
Clinton told disappointed supporters in Des Moines Friday night that the results showed voters want change, in the form of a Democratic president. The record turnout Democrats saw Tuesday night, which amounted to more than 100,000 more caucus-goers than the previous best, validated her point. Clinton, though, must become that agent of change, a message Obama has largely dominated. 51% of voters who said they most wanted a candidate who could bring change chose Obama, entrance polls showed. That group accounted for more than half of all caucus-goers -- 52%.
While she may no longer be the odds-on favorite to win the contest, Clinton remains in strong position. She has the money and the organization to continue, even without overwhelming victories, until large states vote on February 5. But it is in New Hampshire where she should make her stand. Clinton has the Democratic establishment behind her, including the organization that elected Governor Jeanne Shaheen to three terms and in 2006 delivered more than three quarters of the vote to Governor John Lynch (neither are backing a candidate, though top advisers to both have chosen Clinton).
Importantly, Clinton still has a significant lead in New Hampshire, something she did not enjoy in Iowa for a month leading up to the caucuses. With a renewed advertising campaign, a new message of change and a bigger focus on turning out her voters on Tuesday, Clinton could reinvigorate her campaign with a win. If she doesn't, Obama will pull out a second victory in a row, and his momentum could begin to prove insurmountable.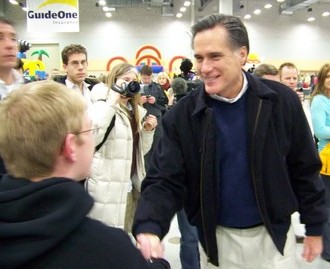 Romney greets a young fan at a
New Years Eve event in Des Moines
Romney faces a much different challenge than Clinton. He spent the last month in Iowa attacking Huckabee on any number of issues. Now, he must continue to attack, but unlike Clinton, his competition has changed. Now, Romney faces John McCain, who has recently taken a lead in New Hampshire.
This is not news to Team Romney, and they have already tweaked their message to highlight the target on McCain's back. At an early morning rally in Portsmouth this morning, Romney repeatedly cited Washington politicians, according to Politico, a clear reference to McCain's nearly thirty years serving in the capitol city. Even Republicans, who still largely approve of the job President Bush is doing, are angry with Washington. Their anger caused many to stay home, or even vote Democrat, in 2006, handing the reins of Congress to the other party rather than continuing to tolerate an increasingly corrupt and ineffective majority of their own.
Romney enjoys a major advantage over both Huckabee and McCain. While both have seen upticks in fundraising in recent weeks, Romney can still write himself a major seven- or eight-figure check and play serious offense in New Hampshire. And if he can win New Hampshire, the ability to self-bank roll will come in handy down the road. "Congratulations for the first round to Mike," Romney said on Fox News last night after the results were clear. Romney's campaign account makes him a George Foreman-like figure: He can survive a lost round financially, at least, and with a Granite State win, Romney will be back in the electoral game.
Romney's fortunes beyond the first primary state will be fatally damaged by a New Hampshire loss. But Romney, like Foreman, needs just one powerfully landed punch to take back the lead. To change his fortunes and get back on track, Romney must hammer the Washington theme and tie McCain to the Republican Party of old. Only Romney, he will argue, can represent the Republican Party of the future. Add to that message a financial wallop with which no candidate can compete and Romney, though wounded, still has a fighting chance.
Thursday's Iowa caucuses were hard shots for Clinton and Romney to take. But with strong performances in New Hampshire, both candidates can regain their positions as front-runners. It appears that a recovery is a stronger possibility for Clinton than for Romney, but each candidate still retains the option to let Iowa be a knock-out blow or the cold shower that revitalizes their campaigns.