Dems Target Obama
LAS VEGAS -- False email rumors have been circulating for months suggesting that Barack Obama is some sort of Manchurian Candidate from another culture bent on harming the United States. Hearing John Edwards and Hillary Clinton tell it these days in Nevada, it seems they believe Obama is a Manchurian Democrat, sent from the Republican Party to harm the left's chances of retaking the White House.
Edwards slammed Obama twice
at an event in Las Vegas
The way Edwards and Clinton speak, one would be led to believe that Obama is the clear front-runner and that the only way the other two can win is by taking votes away from the popular freshman senator. In separate appearances today, both went out of their way to slam recent comments Obama has made in praise of the Republican Party, and to loud applause.
Speaking to supporters before beginning a nationwide tour, John Edwards took time to claim the mantle of a candidate who can come from behind. "I am not the $100 million candidate. That's the other two guys," he said. "I am the underdog." Before singling out Clinton for taking lobbyist money, a refrain he has long repeated, Edwards turned his attention to Obama. "I have a truly universal health care plan. Senator Obama does not."
Edwards then joined critics of Obama's recent comparisons of his campaign to that of Ronald Reagan, in that both are agents of change. "We know that Ronald Reagan is not an example of change for a presidential candidate who is running in the Democratic Party."
Just half an hour later, joining owners and employees at a small business a few miles away, Clinton echoed the criticisms, citing an interview in which Obama said the GOP was the party of ideas. "My leading opponent the other day said that he thought the Republicans had better ideas than Democrats the last ten to fifteen years. That's not the way I remember the last ten to fifteen years."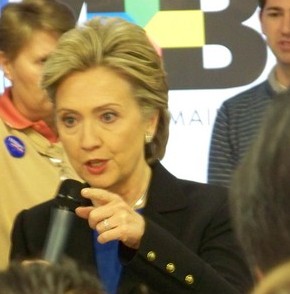 Clinton acted as if it were Obama
who led Nevada polls
Clinton's shot at her rival came two minutes -- literally -- after her campaign announced a conference call in which Reps. Barney Frank, Corrine Brown and Shelley Berkley would denounce the comments. Frank's sister is top Clinton adviser Ann Lewis, and Berkley represents the Las Vegas-based district from which a large plurality of Democratic caucus-goers will come tomorrow.
Both campaigns sought to portray Obama as the Nevada front-runner despite recent polls showing Clinton ahead. "Senator Obama has an advantage because of the Culinary endorsement," Clark County Commission chairman and Clinton state chair Rory Reid told Politics Nation. "She has significant union support, but the Culinary Union is certainly a factor. They were an endorsement that everybody sought, simply because of their numbers."
Edwards has left Las Vegas and will attend a rally in Oklahoma City later today, the third stop on what the campaign is billing as a nationwide tour. Clinton will hold two rallies, in Elko and in Reno, before joining husband Bill Clinton for a final rally in Henderson, just south of Las Vegas. Obama has rallies planned for Elko and Las Vegas before heading to a Martin Luther King Jr. dinner in Las Vegas.