Biden Keeps His Chin Up
INDIANOLA, Iowa -- Some candidates, like John Edwards, are high-energy, shouting into a microphone to the delight of their fired up troops. Others, like Hillary Clinton, speak in more measured tones most of the time, as their supporters listen with rapt attention. No candidate, in either party, can pull off both the energetic highs and the silence-inducing lows like Joe Biden.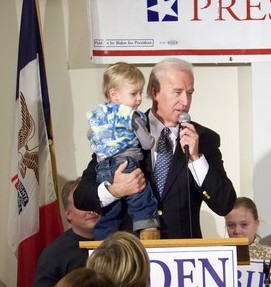 Biden and grandson welcome the crowd
Listening to Biden deliver his stump speech is like riding a roller coaster. In a packed room at the Warren County administration building on the first day of the new year, Biden, pacing around a lectern with a faulty microphone, at times looked both like an Edwards-style fiery preacher and a Clinton-esque sober realist. It is a long way from Biden's perch as chair of the Senate Foreign Relations Committee to this sleepy bedroom community south of Des Moines, and a long way from Biden's position near the bottom of the Democratic pack and where he needs to be to pull off an upset of any measure.
But while Biden may not have the money to compete with any of the three front-runners, his supporters are just as enthusiastic as any in the field, and lately, Biden says, his crowds have been growing. "The events we've been having the last month, the crowds have been exceeding our estimates by four or five times, most of the time," he told Politics Nation. A rally in Des Moines earlier in the day had attracted somewhere north of 500 people, comparable to crowds the front-runners pull in.
Biden has been around Washington a long time, and he is savvy enough to know how the media works. "It's not a complaint, [but] most of the national press has not covered me," he said, implying that the oversight may work in his favor. "If John Edwards comes in third, he's probably done. Fair or unfair, that's the bar that's been set for John. If Hillary Clinton beats Barack by ten points, Barack is probably mortally wounded. If Hillary gets beat by five or six points, the inevitability is gone. If I come in a solid fourth or a third, I'm a winner."
Any candidate who argues that they are the most experienced would have a difficult time convincing voters that they have more background than Biden. At times throughout the campaign, he has appeared almost frustrated as he listens to others describe what he sees as naive or incomplete proposals. Others, he says, have knowledge gaps to fill. "The next president is going to have virtually no margin for error," Biden told about 150 people in Indianola. "Can we afford to turn over, at this moment in history, the reins to people who are still learning?"
Biden is unapologetic about seeing himself as much more experienced than others in the race. The devil, he points out, is in the details. "While all the other candidates have talked about, and I believe are very concerned about Iraq, and would like to end the war, none of them have put together a specific plan. I mean, they had two years to do it," he said. Biden's plan, for a decentralized government and division of oil revenue, passed the Senate with dozens of Republican votes and virtually every Democrat's support.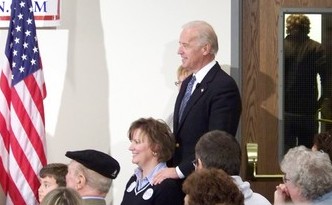 Biden listens as campaign manager Valerie Biden Owens
introduces her older brother
"You don't have to imagine what the next crises are going to be in the United States. There's a half a dozen sitting right there, right now," Biden said in an interview. In early November, Biden laid out the need for a new policy on Pakistan and his proposed approach to President Pervez Musharraf. Now, other Democratic candidates "are all now scrambling to figure out what their policy is on Pakistan."
With sixteen years of combined Senate experience between them, Clinton, Obama and Edwards are far behind the thirty four years Biden has served. But like other candidates with more experience than the top three, Biden faces a question of viability. Most Biden supporters say they have already decided on a second choice candidate, in the likely event that they will fail to meet the fifteen percent support threshold.
"I don't know the math, but he won't be at the top like the others," said Roy Hampton, of Indianola. Hampton and his wife decided on Biden almost a year ago. Tomorrow night, if they cannot rally the support, they will join the Edwards camp. Edward Thornton, a supporter of New Mexico Governor Bill Richardson from Des Moines, says his friends would all rather decide on one of the second-tier candidates. "They would rather go with Biden or [Chris] Dodd or Richardson, but they all think they haven't got a chance, so they're going to have to go with somebody else," he said.
"We have so many choices, which is unusual, I think, to have four or five that are viable to get news coverage," Thornton said. Still, talk of viability becomes a self-fulfilling prophecy, he said. It's also part of the reason why, a day before the Iowa caucuses, many Democrats remain undecided. "If they could make up their mind and think that Biden or Dodd or Richardson's got a chance, then they'd have their mind made up." Instead, backers of the three others think "'He hasn't got a chance in hell,' so they're not making up their minds," he said.
While Biden can seem frustrated with the lack of experience and wisdom his colleagues on the debate stage show, he has nice things to say about the front-runners. "The Democratic Party, and I as well, am rightly proud of the fact that we have two extremely qualified people who will be breaking a barrier that I have fought my whole life as a senator to break, on race and on gender," he said, adding a backhanded compliment: "Both have been able to raise tens of millions of dollars from interest groups."
Despite the long odds, Biden is optimistic that experience will win out. "If you stand up for Joe Biden on caucus night, you're going to be surprised at how many people stand with you," he told the cheering crowd. "I expect to win the nomination," he told Politics Nation. "I wouldn't trade places with any other candidate at this moment."