Previewing Virginia 01
As voters head to the polls in this vast Virginia district, Republican State Rep. Rob Wittman and Iraq war veteran and teacher Phil Forgit, a Democrat, will be hoping things go their way. The odds here are that Wittman takes this heavily Republican district. But we'll take a look at the scenarios that need to happen for either candidate to win.
To understand the diversity of this district, take a look at this excerpt from a Newport News Daily Press editorial: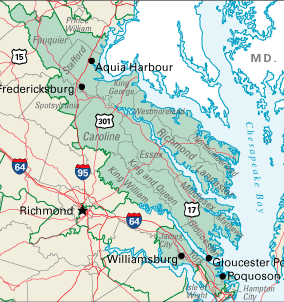 "Gerrymandered beyond reason, the 1st District stretches from this industrial waterfront through Williamsburg, the Middle Peninsula and the Northern Neck, into the outer Washington suburbs north of Fredericksburg. What community of interest binds the urban-suburban southern end with the rural northern end is a mystery left behind when the state legislature drew this map."
The district lies along the western shore of the Chesapeake Bay, running about 150 miles from north to south. Much of Newport News, a city of some 180,000 people, is included in the southern tip of the district. This is where much of the population resides, with NASA and large military and Defense Department operations the major employers.
For Forgit to win: In districts as large as this, elections can turn into territorial battles (see the July 2007 special election in GA-10 that turned into Augusta vs. Athens). If this were to happen, Forgit's chances would greatly improve. Forgit and Wittman, come from opposite ends of the district. Forgit lives in Williamsburg, about 30 miles northwest of Newport News. Wittman lives in Westmoreland County in the Northern Neck, a rural area without much in common with Newport News. As an Iraq war veteran and Bronze Star recipient, many voters in the military-heavy district can relate to Forgit's resume.
For Wittman to win: The district leans heavily Republican, giving President Bush 60% in 2004 and the late Congresswoman Jo Ann Davis 63% in 2006. If Wittman's get-out-the-vote efforts worked, Republicans will head to the polls today in large numbers and select the only candidate with two decades worth of elected office experience. Wittman was promised a seat on the House Armed Services Committee by House Minority Leader John Boehner, something Democrats were unable to do for Forgit.
Polls close at 7 p.m.
-- Kyle Trygstad