Dems, GOP Look Back At First Session Of 110th
As rank and file members of Congress scrambled to vacate Washington yesterday, leaders of both parties did their best to spin results as the first session of the 110th Congress came to a close. The two sides laid blame for the session's shortcomings on their counterparts, though leaders said they had reason to be optimistic for 2007.
For Democrats, 2007 was both heady and frustrating. Experiencing their first concurrent majorities since 1994, the party laid out a flashy agenda that included action on ethics reform, energy, the minimum wage and tax cuts. While Republicans said the plans lacked ambition, Democrats nonetheless crowed about their own accomplishments while looking for new leverage in 2008.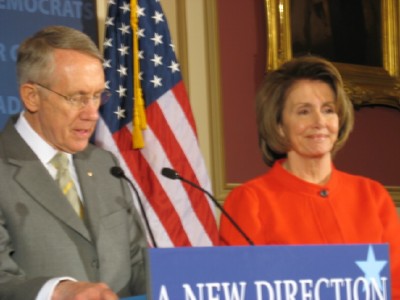 Senate Majority Leader Harry Reid and
House Speaker Nancy Pelosi
"This has been one of the most successful sessions I've served in 26 years in Congress," said Majority Leader Steny Hoyer, a Maryland Democrat. Speaker Nancy Pelosi said the Party "made history in many respects, but much more needs to be done."
The Democratic agenda included multiple proposals sandwiched into broad themes, making it impossible to say any had been accomplished completely. Still, the party can legitimately claim some success.
Democratic Caucus chair Rahm Emanuel's office released a chart Thursday comparing the first session of the Democratic Congress with Republicans' first chance to lead in 1995; that year, the GOP passed just one of 11 measures proposed by the vaunted Contract with America. This year, Democrats managed to pass big portions of their "Six in '06" agenda - including measures to implement the recommendations of the September 11th Commission, raising the minimum wage, reducing the cost of college and a major energy bill.
"This is just the beginning of the change that the elections of 2006 brought," Emanuel said, "and 2008 is going to be an even bigger election about change."
Previewing a possibly potent argument Democrats will use next year, leaders complained the GOP is using legislative maneuvers to block popular legislation. "The filibuster rule has now been used on every single piece of legislation. They are against change. They are happy with everything that's happening. We are not," said DSCC chair Chuck Schumer. "There's much more to be done. They block it, with filibusters."
Democrats in the House have been frustrated at the slow pace necessitated by Republicans in the Senate. "In the House we've been able to accomplish a bit more than the Senate," said one member of Congress. Still, the party cannot throw a Democratic-led upper chamber under the bus when making arguments that voters should elect more Democrats. "That the Republicans have put up road blocks, there's no question," the House Democrat said. "That's not going to be enough, I think, to convince people we can't do more."
The obstruction argument has been made before, and with mixed success. Republicans claim the issue was enough to knock off then-Democratic leader Tom Daschle in 2004, though Democrats, now trying the same argument, are quickly learning it's a complex point to make. Asked what Democrats needed to do better next year, a moderate House Democrat said the party should find a better way to "explain to people that, in the things that didn't get done, it was because the Republicans, either in the House, the Senate or the President, one of those three people opposed it."
Democrats said the GOP would be hurt by inaction on key legislative efforts, thanks in some part to President Bush. "Bush vetoed one bill in six years, and now acts like the Grinch by vetoing a health care bill for children," Hoyer said, referring to Congress's failure to expand the State Children's Health Insurance Program.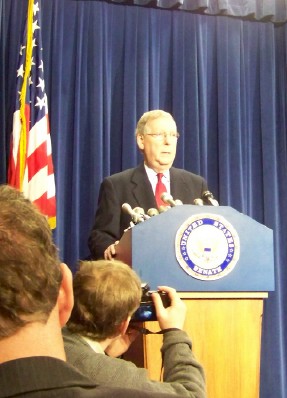 Senate Minority Leader Mitch McConnell
Republicans, though, fired back, asserting Democrats had acted in too partisan a fashion until the last few weeks. "Divided government really does present an opportunity to do important things," Senate Minority Leader Mitch McConnell said. "We missed an opportunity to take up a big challenge, something important." Still, he said, "you've watched the approval rating of Congress tumble over the year."
The chamber's low ratings is thanks in part to the war in Iraq, the biggest issue on which Democrats' base wanted action. The new majority made little progress. Despite thirty-four votes in the Senate and thirty-six in the House, Congress capitulated to the administration, authorizing an additional $70 billion for operations in Iraq and Afghanistan without conditions.
Democrats, who found success saddling Republicans with the Iraq albatross in 2006, continue to blame their rivals for a lack of progress. "We need Republicans to join with us to give the troops a strategy to succeed in Iraq," said Senate Majority Leader Harry Reid. "We need Republicans to join with us to refocus our military efforts on al Qaeda."
McConnell said Democrats would have a difficult time using Iraq as an effective issue, given the successes of the troop surge. "Things have improved [in Iraq]," McConnell said. "It's an undeniable fact. Or should I say, an inconvenient truth." The Kentucky Republican went on to say he would have picked General David Petraeus, commander of U.S. forces in Iraq, as Time's Man of the Year. "Unfortunately, Vladimir Putin beat him out," he joked.
The moderate House Democrat recognizes that Iraq remains a key issue, if not with independent voters than with his own base. "Everyone's walking around here saying, 'Eh, you guys didn't really do anything.' We did exactly what we said we were going to do," he said. "The fly in the ointment is, 'But you didn't stop the war in Iraq.'"
Leaders on both sides remain optimistic for next year, saying the last-minute rush of bipartisan legislation could bode well for the future. "We've been working on a bipartisan basis the last couple of weeks," Reid said. "It hasn't been easy, but we've worked through them."
McConnell said Congress' historically low approval ratings would not last. "I will predict that those numbers are going to pick up some," he said. "We really have met in the middle."
Whether the bipartisanship continues into next year is an open question. If recent history is a guide, this election year will likely resemble most others as tensions rise with November's approach. Both parties will recharge over the winter holiday and retool their strategies, and both will be back in January with knives out.
-- Reid Wilson and Kyle Trygstad