5 Moments That Changed The GOP Race
NBC Political Director Chuck Todd on Sunday put into words what every political junkie has thought for months. "We've all got what we want for Christmas," he said on Meet The Press. "It's this race."

A year in to the widest open, most covered and most fascinating presidential race in a generation, and just a week before the first votes are cast, eight candidates have at least some legitimate chance at winning their party's nominations. None are in their positions by accident.

In the fight for the Republican nomination, there have arguably been four front-running candidates. The strategies that have worked -- and those that haven't -- have made for a fluid race in which, even at this late date, many have concluded there is no front-runner at all. Recently, we examined the top moments in the Democratic race. Today we take a look at the five moments in 2005 that most changed the GOP race:
5. November 5 and December 11 -- Ron Paul raises $4 million and $6 million in individual days. The important thing to remember: Ron Paul will not win the Republican presidential nomination. His campaign does not have the organizational strength, and his message is simply not suited for a Republican primary electorate that, largely, still supports the war in Iraq and President Bush.

But $10 million in two days is astounding, and Paul's message clearly resonates with many more than the 50,000 or so who gave as part of the "money bomb."

Howard Dean, fighting against the Washington Democratic establishment and arguing that he represented the Democratic wing of the Democratic Party, gave rise to Barack Obama's outsider message that is now working so well. Paul's financial success will probably not lead to electoral success for the same reason: Like Dean, Paul is the wrong messenger.

If another, younger, more telegenic libertarian Republican comes along in the future, claiming to represent the Republican wing of the Republican Party, he or she might help redefine the GOP for a generation. Paul's success will not change the 2008 Republican Presidential contest, but four, eight, even twenty years down the line, someone may point to Guy Fawkes Day and the anniversary of the Boston Tea Party as days that shifted the way Republicans think about themselves.

4. August 11 -- Mike Huckabee finishes second at the Iowa Straw Poll. Huckabee spent next to nothing to compete at Iowa State University in Ames, relying instead on a network of home-school advocates and FairTax backers, as well as a substantial number of voters who must have taken tickets from other candidates who invested more in the event.

His second-place finish had two effects that rocked the GOP race: It effectively knocked Kansas Sen. Sam Brownback from the race, giving social conservatives just one candidate around whom to coalesce. And it gave Huckabee another media boomlet, on which his campaign finally capitalized. Huckabee's strong showing at the straw poll was not the apex of his drive toward the top of the Iowa polls, where he now resides; it was the first push that got Huckmentum rolling as far as it has gone.

One might also argue that back-to-back decisions from Rudy Giuliani and John McCain not to compete in the event -- in fact, both have barely made an effort in Iowa at all -- opened the door for Huckabee to sneak in. Both Giuliani and McCain, at that time national front-runners trailing Mitt Romney in the first caucus state, were afraid of being seen as losing. By not busing in their own supporters, each left the door open for Huckabee to score a victory that arguably led to his position as a front-runner today.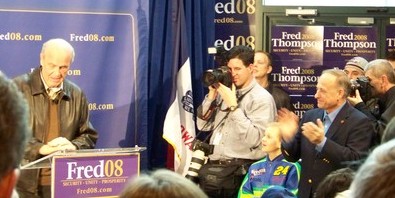 Thompson speaks to supporters at his Urbandale, Iowa
headquarters. Rep. Steve King, applauding right, looks on
3. September 5
-- Thompson announces on Leno. After months of preparing a run for president in the messiest way possible, and as other Republican candidates debated in New Hampshire, Fred Thompson showed why he has never been nominated for any sort of acting award and rarely takes a role with more than a few speaking lines. Announcing his candidacy on Jay Leno's Tonight Show, Thompson tried to appear presidential and run a campaign above the fray, above an increasingly nasty GOP scrum and at a level he and his campaign hoped could not be equaled by the others. Unfortunately for him, his GOP opponents were already looking past a dud of a campaign.
Looking back on this entire campaign, it is hard to imagine a faster rise and fall than that of Thompson. Once the savior of conservatives everywhere, who were without a candidate to rally around, Thompson ran a campaign so ham-handed that he has become almost a non-factor in the GOP side: A recent poll in New Hampshire had him tied with Duncan Hunter. Further, Thompson's entry caused many Republicans to take another look at the field. In the end, virtually every candidate except Thompson benefited from that closer look, most prominently Huckabee.
From constant turnover among top campaign aides, a less than stellar fundraising performance and debate appearances that even Arthur Branch would have panned, Thompson couldn't capitalize on the immense wellspring of good will that existed. His choosing to announce his campaign on Leno's couch showed the fatal strategy Thompson pursued: Run a different kind of campaign. That never works. Campaigns are run following a specific formula because that formula works, a formula to which the former senator never wanted to conform.
2. July 13
-- McCain campaign implodes. Once the national front-runner, with an aura of inevitability and a fundraising plan that assumed $100 million in the bank by the end of the year, John McCain's fortunes began to slip early. By the time Rudy Giuliani got in the race, a month into the year, he had overtaken the Arizona Senator as the national front-runners. And, to be blunt, McCain has never been a good fundraiser.
Still, the campaign did not recognize its financial short-comings and wound up having to drastically alter the game plan. Many senior staffers, including campaign manager Terry Nelson and long-time strategist John Weaver, parted ways.
If John McCain loses the Republican nomination, his campaign plan, drastically different from that of his 2000 insurgent race, could take the blame: Why take a candidate who is best running from behind and try to make him the inevitable nominee? But if McCain wins, which he very well could do, he can point to what can only be described as an implosion -- early speculation was that he would drop out in July or August -- as the impetus for a major retooling that worked.
McCain had a winning early strategy in 2000, derailed only in South Carolina. The only improvements he may have needed to make were in South Carolina, a state with thousands of veterans who would happily vote for a war hero in a Republican primary. The implosion, in short, let McCain be McCain, which is the only way he can win.
1. December 6
-- Romney delivers "The Speech" at Texas A&M. No one on the Republican side had a worse November than Mitt Romney. His Iowa poll numbers, once seemingly insurmountable, began to slowly receed as Huckabee's increased. Some social conservatives more openly questioned his conversions, on issues of abortion and gay rights, while asserting that his Mormon faith was all but a deal-breaker. Romney decided to risk a speech explaining the role of faith in America, an answer to John Kennedy's famous speech defending his Catholicism in 1960.
The moment presented risks: Romney very well might have said something to irritate and alienate his remaining evangelical backers. Instead, he delivered a reasoned yet impassioned speech that won praise from many corners while only mentioning the word "Mormon" once. Since then, his poll numbers have inched up, the slide seems to have abated and Romney's fortunes seem headed north. Romney may not win the nomination, but the speech at President George H.W. Bush's library in College Station stopped the death spiral and gave Romney a fighting chance.
Bonus: December 19
-- Rudy Giuliani checks into the hospital. The former New York City mayor is not the paragon of health. A cancer scare kept him out of the 2000 Senate race, and the flu-like symptoms and self-described worst headache he had ever experienced might renew questions about Giuliani's well being. His campaign was not forthcoming about the incident, and Giuliani's doctor will not be made available to the media until after Christmas. If Giuliani is not the GOP nominee, might pundits look back on a day in the hospital just three weeks before the New Hampshire primary as a turning point in the campaign?
The GOP race has entered the final sprint, in which the term "race" actually starts to mean something. Pundits and historians will look back at 2007 as the year in which the contest was decided. The eventual winner -- and anyone's guess is good at this point -- will have benefited in some way from the make-or-break moments above. He who capitalizes most will be standing at the end of the day.