Theater Of The Absurd
The chaos over the primary calendar is getting worse, not better, and quickly. We pointed out Roger Simon's strong suspicion that New Hampshire's primary will be held in December of this year, and residents of the Granite State seem just fine with that, if it means they stay first.
Today's front page of the influential New Hampshire Union Leader: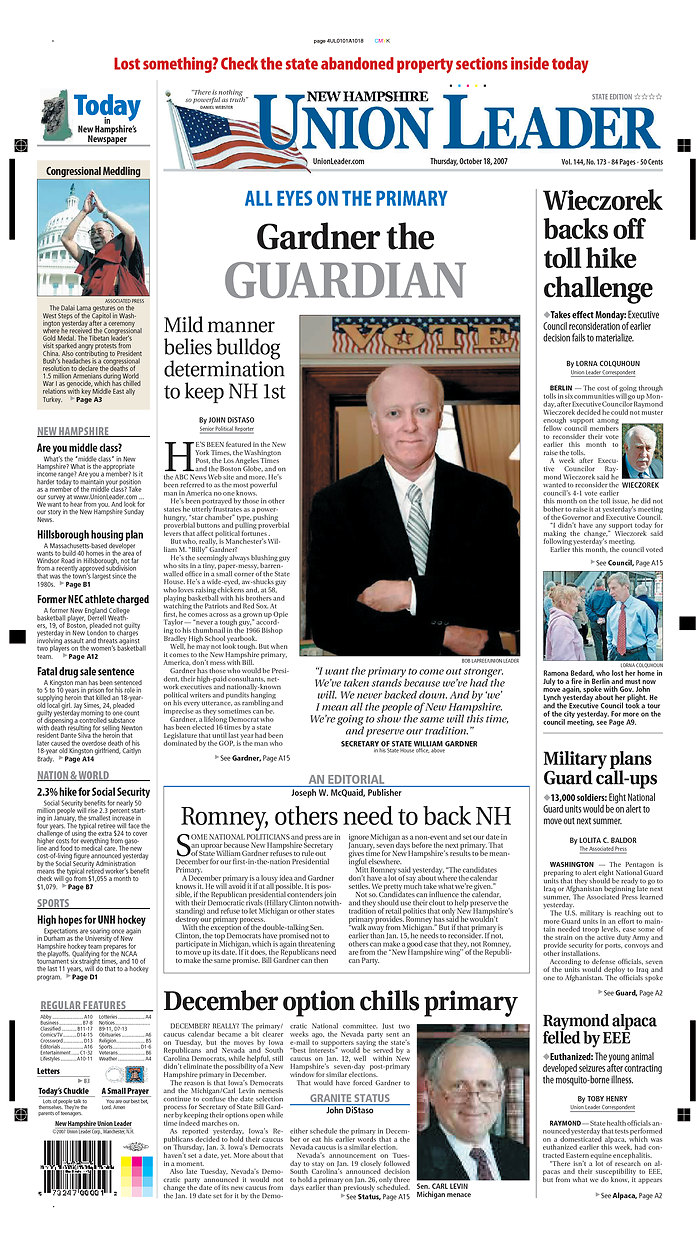 (click for a bigger image, courtesy the Newseum)
That's a front-page profile of New Hampshire Secretary of State Bill Gardner (Headline: "Gardner the Guardian"), who has sole discretion over when the primary is held. The profile, penned by senior political writer John DiStaso, appears above a front-page editorial from publisher Joseph McQuaid calling on Gov. Mitt Romney to reconsider his decision to participate in the Michigan primary and chastising the "double-talking" Sen. Hillary Clinton.
In turn, the editorial appears above DiStaso's regular column, Granite Status, complete with a picture of Michigan Sen. Carl Levin, who has made it his business to challenge New Hampshire's early privilege (caption: "Sen. Carl Levin, Michigan menace"). The picture, we're sure, will appear on more than a few New Hampshire dart boards before the day is out.
Even NBC Political Director Chuck Todd has had enough. This column has had the privilege of knowing the NBC guru for quite a while, and it's shocking, given his strong feelings on the way college football chooses a champion, to read this sentence: "In fact, I can't believe I'm saying this, but the presidential nominating process has become so ridiculous and convoluted that it makes college football's 'Bowl Championship Series' seem orderly."