Olbermann Drops In Key Demo Five Quarters In A Row
Now that CNN's Campbell Brown is out of the picture, MSNBC's star primetime host Keith Olbermann can no longer hide behind her dismal ratings. The spotlight is now shining bright on his declining ratings. Business Insider reports:
Nielsen's latest quarterly ratings reveal what seems like a troubling threat for Olbermann.
Olbermann averaged 1,059,000 total viewers in the second quarter of 2010 (March 29-June 27), down slightly from 1,159,000 during the same period a year earlier, but up slightly from the first quarter of this year (1,000,7000).
However, it is not just his total viewership that does not look good. Olbermann has been losing viewers in the coveted (age) 25-54 demo for five quarters in a row: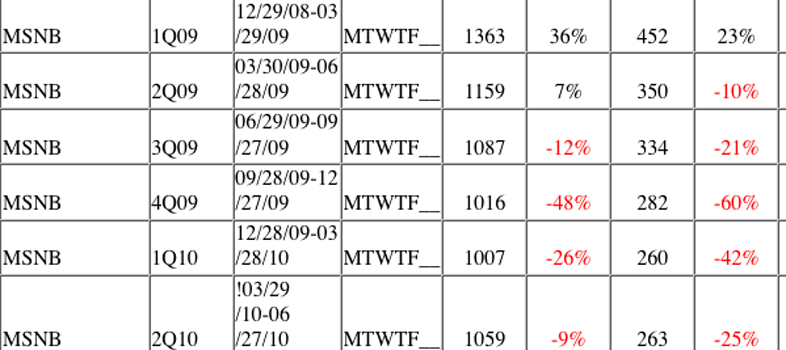 (image source: Business Insider)
Olbermann has long been considered the titular head of MSNBC, calling the shots behind the scenes at the network. Most recently, he was suspected to be behind pulling NBC's Donny Deutsch off the air temporarily after he dared to label the 'Countdown' host as "angry".
Benzinga is reporting MSNBC is considering dropping the plummeting Olbermann for younger "emerging talent":
Sources tell me that MSNBC has tolerated the poor performance since it's well known that no one there has any control over Olbermann and by and large he calls the shots at the network and MSNBC has not had a bench of emerging talent to replace him with. Until now......former CNBC'er Dylan Ratigan was the recipient of a fawning profile in the NY Times yesterday and there's talk of whether he could be a suitable replacement for Olbermann if this trend continues. Ratigan has now moved from news to opinion and is gaining some traction in doing so, making him a good fit for primetime, the most valuable real estate in cable news.
In other news, the unabashed MSNBC host tweeted the following after learning of Larry King's retirement: "Larry King is a lovely, generous man who tried, for 8 years, to convince his bosses to hire me to be his 8 PM lead-in at CNN." Que lástima.
(Ratings Source: The Nielsen Company)