Fox News Too Hard on Obama
Fox News has run up unprecedented ratings numbers since the inauguration of President Barack Obama. Beginning in January, Fox News has dominated cable news rivals and reached No. 2 in overall cable ratings, behind only USA.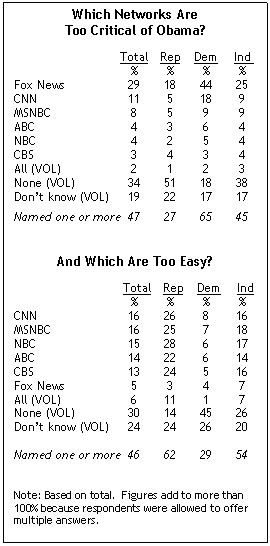 It seems like being Obama's No. 1 critic has been a winning ticket for Fox News. And a recent Pew Research Center survey appeared to agree with that observation.
Nearly 30 percent of those surveyed from April 17-20 thought Fox News was too critical of Obama, including 44 percent of Democrats and 25 percent independents. Even 18 percent of Republicans thought Fox News' coverage of Obama was too harsh.
On the flip side, all three major networks, CNN and MSNBC received about the same amount of complaints about being too easy on Obama, between 13-16 percent. Republican dissatisfaction went across the board, with between 22-28 percent believing these five networks were too easy on Obama. About one-sixth of independents also thought so.
One interesting side note on the survey: While Fox News stood out as the one that's most critical of Obama, a majority of independents thought multiple networks were too easy on Obama (to go with 62% of Republicans). You may even suggest that while being critical (or too critical) of Obama has been good business for Fox News, none of the other networks has reaped much benefit by appearing to be easy on Obama.