Boston Globe on the Ropes?
The cash-strapped New York Times Co. is looking for more ways to get out from its mountainous debt. Its latest move appears to be extracting substantial concessions from the unions at the Boston Globe.
Failing that, it may shut down the paper altogether.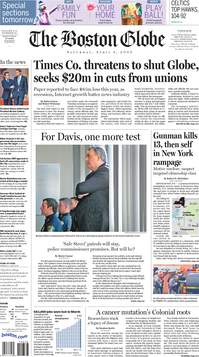 The Times Co., which purchased the Globe in 1993 for $1.1. billion, is seeking paycuts, a freeze of pensions and other concessions from the 13 unions of the paper, its second biggest after the flagship New York Times. Founded in 1872, the Globe is still the dominant paper in New England, though its circulation has dropped precipitously over the last decade, to its current 324,000.
With over $1 billion in debt, the Times Co. in recent months has sought to raise cash aggressively. It sold its Eighth Avenue headquarters and rented back the office space; it received a $250 million loan from Mexican billionaire Carlos Slim; and it continues to shop its 17.5% stake in New England Sports Ventures, which owns the Boston Red Sox and Fenway Park.
The Times has been shopping the Globe as well, but with an estimated worth of $20 million, there has been no takers. Just two years ago, the Times rebuffed inquiries for the Globe, at the time valued at $500-$600 million.
The Globe's crosstown rival Boston Herald has long been rumored to have an interest in acquiring the paper. But late last year, Herald publisher Pat Purcell denied that any discussions were held with officials from the Times Co. Jack Connors, a Boston advertising executive who did try to buy the Globe in 2007 - along with former GE CEO Jack Welch - also claimed there wasn't any renewed interest on his part, saying "sometimes in life, you're lucky for the deals you don't get."
Times Co.'s threat may very well be a tactical move to force the unions to play ball in order to cut costs, similar to what the Hearst Corporation engineered with the newspaper guild of the San Francisco Chronicle. But it has nevertheless gotten the union's attention. Said Ralph Giallanella, secretary-treasurer of Teamsters Local 259, which represents about 200 drivers who deliver the newspaper:
"We all know the newspaper industry is going through great transition and loss. The ad revenues have fallen off the cliff. Just based on everything that's going on around the country, they're serious."