The Sporting Journal
Fulfilling Rupert Murdoch's pledge to make the Wall Street Journal a more general-interest paper to compete with the likes of the New York Times, on Tuesday unveiled a sports page, to be featured now daily in the Journal.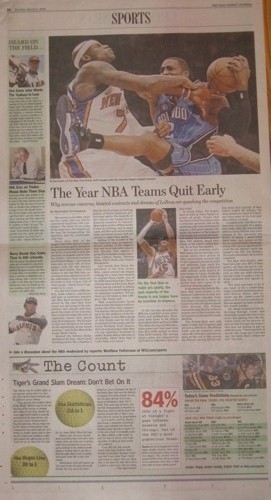 Previously, the Journal's sports coverage was limited to John Paul Newport's golf column in the weekend edition and a few sports stories in the Friday and weekend papers. Sports Editor Sam Walker said the new daily sports page won't be a place to find box scores. "We're not doing game coverage," he said. "These are stories that are idea-based with big themes."
The Journal's first sports center-piece story? Of course it came with a financial theme. It's a feature on why fewer NBA teams are capable of contending for the title this season, and what the economy has to do with it.