P-I Gone, Who and What Next?
Today marks the end of the Seattle Post-Intelligencer as a newspaper. The web site seattlepi.com will live on as but a shell of its former self.
Despite coping with uncertainty for the past two months, the staff at the P-I put forth all it had for the final edition. The cover of the last paper, of course, features the P-I's iconic globe glowing in the dark.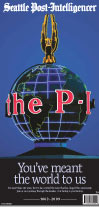 The 146-year-run of the P-I, which began as the Seattle Gazette in 1863 and bought by William Randolph Hearst in 1921, came to an end after the parent Hearst Corporation decided it was tired of losing money at a paper where circulation was shrinking at an alarming rate in recent years. By making the paper an online-only entity, Hearst is experimenting with a future concept that may be the destiny of newspapers. The fate of P-I's web site will be closely monitored not only by other Hearst papers such as the San Francisco Chronicle and Houston Chronicle, but other newspaper operators from across the country as well.
That the P-I and the Rocky Mountain News folded in the first quarter this year is but a sign of the times. More papers will surely follow. The financial crisis has been cited as the primary reason for the demise of newspapers, but it merely accelerated it. The business model was broken, so it was merely nudged toward the cliff a little sooner than expected.
The more forward-thinking types have already moved on, that includes Clay Shirky, a well-known and respected industry analyst:
There is one possible answer to the question "If the old model is broken, what will work in its place?" The answer is: Nothing will work, but everything might. Now is the time for experiments, lots and lots of experiments, each of which will seem as minor at launch as craigslist did, as Wikipedia did. ...

Any experiment ... designed to provide new models for journalism is going to be an improvement over hiding from the real, especially in a year when, for many papers, the unthinkable future is already in the past.
The death of the P-I is but one of the many funerals for newspapers in 2009, and beyond. Only a month ago, we produced a list of newspapers most likely to fold, and as of today Nos. 1-2 are already gone and No. 3 is to be reduced to an "edition" of another paper soon.
As with the Rocky, the P-I went out with a bang, in an interactive, multi-media splash - photo gallery, and video: